Even those who are far from the video game industry and have never held a joystick in their hands have undoubtedly heard of such a game console as Sony PlayStation.
We will tell you about the most popular game console in the world PlayStation 4, namely its three modifications: PS 4, PS 4 Slim and PS 4 Pro. We a help to compare them and determine which is best for you.
Technical comparison between the PS4 Slim and PS4 Pro
Ordinary PlayStation 4, has an AMD processor, the clock frequency is 1.6 GHz. It has 8 cores on Jaguar microarchitecture (modification of Bulldozer microarchitecture for desktop PCs). The Radeon GPU, located under one roof with the processor, consists of 18 blocks and has a performance of 1840 GFLOPS (billions of floating-point computing operations per second). There are 8GB of GDDR5 RAM, 500GB or 1000GB hard drive, HDMI 1.4, 2 USB 3.1 ports, Ethernet, Wi-Fi and Bluetooth 4.0. Weighs console 2.8 kg, and its size: 27*5,3*30 sm.

PlayStation 4 Slim, a smaller version of the familiar PS4, which differs from it only in size and weight. Opportunities remained the same, but the console has become to weigh 2.1 kg, and its dimensions decreased to 26*4*29cm. In terms of iron, there is no change, still the same CPU on 8 cores with 1.6 GHz and graphics with 18 blocks on the 1840 GFLOPS.

PlayStation 4 Pro, got a new hardware, also equipped with an 8-core AMD processor (frequency reaches 2.1 GHz). Handles graphics built-in AMD Radeon GPU with 36 units, with capacity 4200 GFLOPS. Thus, according to the chart, the novelty is almost 2.5 times more powerful. RAM it all the same 8GB GDDR5, but it has become 25% faster. Hard drive 1 TB. USB 3.1 ports became 3, the rest remained in place, and HDMI updated to version 2.0. Weight increased to 3.3 kg and dimensions-up to 29*5,5*32 sm.
PS4 Slim and PS4 Pro: the comparison in games
The most interesting, thing is how the differences in hardware affected the difference that we see in the games. Pro version, is the first among the Sony consoles has learned to somehow operate games in 4K resolution, however, and gamers who have the usual Full HD screens, also have not been forgotten. One of the first advantages of Pro, recently revealed a loud exclusive Sony Horizon Zero Dawn.
For previously released games, their developers have prepared special patches for PS4 Pro. Some of the authors preferred to double the frame rate in those projects where it did not exceed 30FPS or exceeded, but was unstable.
Others have improved detail and visual effects. Here is so is changing one of major hits Sony last time The Last of Us on three versions of PS4 (Pic).
By the way, some individual developers have managed to pull the new capacity and FPS and effects. However, to be honest, such examples are few.
Therefore, if the "kill two rabbits with one stone" did not work, the developers give users a Pro choice. For example, the creators of Rise of the Tomb Raider provide players with separate modes. In one, it will be possible to achieve standard graphics and 60 FPS. In the other-maximum visual effects for Full HD, but only with 30 frames instead of 60.
In the current Tomb raider, also has a mode number 3 for 4K TV (it is also added along with the patch). There is no maximum FPS and maximum effects, but the user will receive high detail pictures. Such a division into regimes is implemented in their projects by some other authors. For example, are a few modes in the recently released remake of Shadow Colossus.
However, other developers make their games look better on PS4 Pro without any modes by default. For example, such differences will be noticed by the players of The Witcher 3.
The General list of games, that have received a special patch for PS Pro, or in the case of new projects, initially support reinforced hardware updated console, is already very large.
Old games, for which the developers have not released special patches, will work on a powerful Pro version as usual. To make them look better, the trick here was invented by Sony itself - with using PlayStation OS.
Additional bonuses: PlayStation VR, DualShock 4 and Camera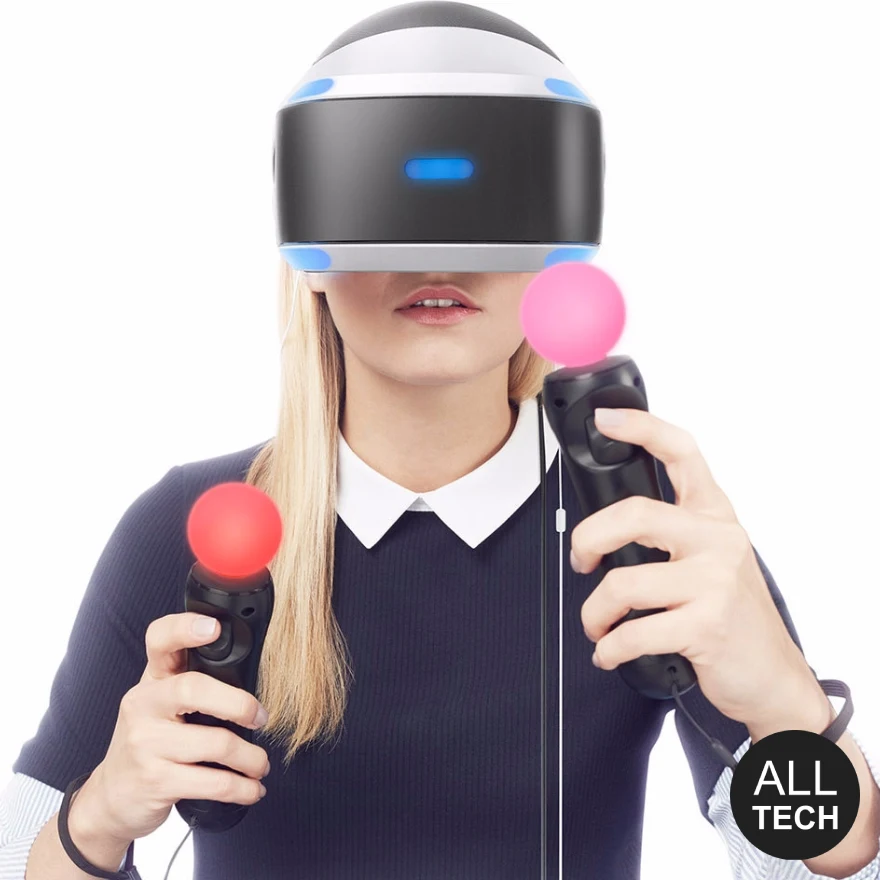 In addition to improved games in Full HD and the first opportunity to run games in 4K, the new hardware capabilities of the Pro version are important and for the virtual reality helmet PlayStation VR (Pic.).
PlayStation VR is another relatively new direction of Sony. This helmet was announced in March 2014, but managed to reach the shelves only at the end of 2016.
PlayStation VR can connect to both 4 Pro and PS4/PS4 Slim. The difference, as in the case with conventional games, only that the more powerful VR console-games will go with a better frame rate, a lot of effects and better detail. As a controller, you can use DualShock 4 or PS Move.
To date, the helmet has managed to fall slightly from the original $400. In addition, Sony recently adds a free PS camera accessory to all PS VR kits, without which it does not work. Previously, users had to buy separately PS Camera at a price of about $60, but now it's in the past.
In terms of technical characteristics, Sony VR, at first glance, is very similar to the solutions of competitors (Oculus Rift and HTC Vive). It is slightly inferior to them in resolution and viewing angle, but it is superior in display refresh rate, which is important for VR.
In addition to a more affordable price and no need for an expensive PC, VR from Sony is also attractive by the presence of a line of exclusive games. It found a place for horror, racing, shooters, Star Wars and even Dating simulators.
For example: Until Dawn, Rush of Blood from Rocksteady, VR-version of Robinson: the Journey from the creators of Crysis and especially VR-mode in Resident Evil 7 from Capcom. The latter is not for the faint of heart.
Despite a later start and with individual options some simpler functions, than those of competitors, PS VR is currently the most successful VR helmet.
Finally, along with new gaming consoles in the fall of 2016, Sony has also launched an updated line of key accessories to them. Thus, in particular, changes have been made to the main console controller the DualShock 4 (Pic.).
The updated version has a new indicator light on the front panel, and in addition to Bluetooth supports USB communication. This slightly upgraded DualShock 4 comes bundled with both PS4 Pro and PS4 Slim. It is also compatible with the very first model of the PlayStation 4.
In turn, the accessory PS Camera, now presented in a much more compact corps and is equipped with a convenient mount. The camera can be used both in individual games for PS4 type Before Dawn and for the PlayStation VR, where it is a necessary device for operation.
No related pages found.