When you live in warm places, where the beach season is almost all year round, such an accessory as a portable Bluetooth speaker becomes a must-have item, such as sunglasses, shorts, t-shirt and sandals. And I, after moving to Miami, in the first months of my life decided to get a newfangled wireless audio gadget for the beach, barbecue and listening to music at work.
Well-advertised models from JBL, I did not want to buy. In my opinion, This technique, although reliable, but is clearly sold at an inflated price. So I started looking for analogs at a lower price, but not deprived of sound quality. Soon my choice was the AUKEY Eclipse SK-M30 for $60, a compact stereo speaker with a powerful Bluetooth signal.
What in the box and design AUKEY Eclipse
The package of AUKEY Eclipse, very simple or correct to say that there is nothing superfluous. A simple cardboard box contains a wireless speaker, a short USB charging cable, a jack 3.5 mm audio cable for direct connection, and instructions with warranty card. Charger not included (Pic.).
After opening the box, I did not feel any poisonous odors. On the contrary, this speaker looks very decent and clearly more expensive than its cost. Acoustic fabric cover almost the entire body, only the bottom looks out a small stand made of not cheap plastic, and the sides are beautifully arranged passive bass radiators with aluminum pads.
In General, this device looks very presentable and will easily fit into any interior of the house: in the living room, kitchen or even in the bedroom. But some will find the Only drawback in this design, it is the lack of waterproof.
Do not look at its compact size (211x114x64), the speaker is not light (2.24 pounds/800g), which is a plus for listening to music at high volume, this gadget will not jump on the surface on which it is installed.
In addition to the weight, this device will hold well on the surface thanks to a plate of viscous rubber that is glued to the bottom of the stand. It is obvious that the developers have well thought out the design and taken care of such important points what causes confidence in this brand.
On the upper side of the case there are control buttons and the backside of the stand is a USB connector for charging and a AUX input for jack 3.5 (Pic.).
Connecting via Bluetooth 4.2 to a smartphone or Windows is very fast and does not cause any complaints in the work. Despite the absence of a Bluetooth antenna, the wireless connection with the speaker reaches up to 33 feet (10 meters) and this is when there are walls in the room!
The device is equipped with a 4000 mAh battery that allows you to listen to music for about 12 hours at a volume of 50%.
But what about the sound of aukey Eclipse?! There was one small fly in the ointment. Which one, Let's find out in the next part of our review.
How does AUKEY Eclipse sound?!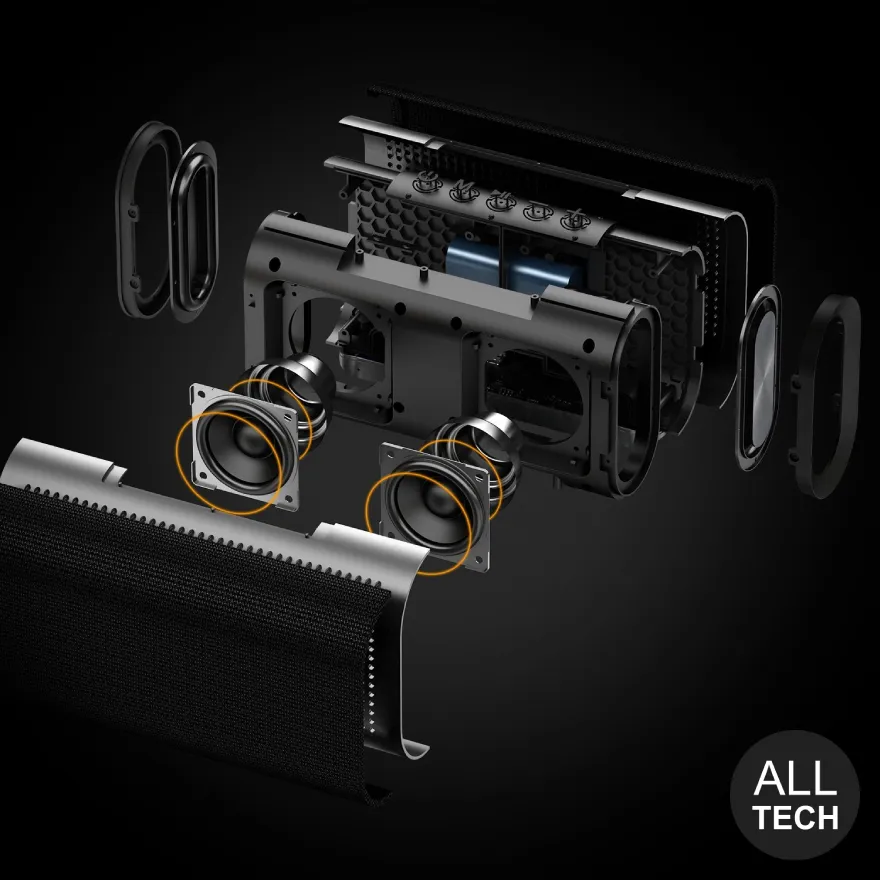 When my friends found out that I had purchased acoustics for $60, they were very confused. Really, can you expect an acceptable sound for $60?! But when they heard this baby, everyone said enthusiastically - " She's playing!". That is, it "sounds"!
Indeed, AUKEY Eclipse plays music very well. Two good speakers of 10 watts each reproduce the sound very well for this money. Their power is quite enough even for medium-sized rooms and they do not wheeze.
But there are two drawbacks. First, medium and high frequencies sound muted, and this is due to a very dense closing grid. Secondly, at high volume sound, passive radiators start to wheeze and not because engineers incorrectly calculated the volume of the case and the weight or area of passive radiators, but because of the strong resonance of the plastic case (Pic.).
We can not say that the above-described sound artifacts are problematic, because they are not strongly expressed. But still, this is a drawback that has and may be in the new version, the developers will make changes and get closer to a more reference of the wireless speaker!...