By purchasing an LCD monitor, TV or plasma panel, the owner of the purchase raises the question - how to care for the coating of the LCD screen, namely how to clean or what to wipe the screen.
Unfortunately, some owners of modern displays, to the question of care are wrong: using to remove dirt is not intended for this household detergents, tap water, wipes or cloth. The consequence of such care may be damage to the special coating of the screen, the repair of which is complicated and not cheap.
The reasons for damage to the coating of the liquid crystal or plasma screen is not intended for this means are simple: a special coating of modern screens does not tolerate aggressive chemistry and significant mechanical effects. As a result, the coating can form spots, streaks, cracks and scratches. Therefore, do not use tap water, as it contains chlorine and other harmful chemical elements, not to mention sprays for washing glass surfaces and other household detergents.
Unlike non-intended means, special sprays not only do not leave stains and streaks, but also can have an anti static effect - which is useful for any kind of electronics. Therefore, in addition to proper care of the screen coating, it is preferable to wipe the dust from the TV or monitor body with special means with anti static effect.
In addition to the intended chemistry for washing the screen, you should use special wipes or cloth that do not leave scratches on the screen cover. Special wipes or fabric can be purchased separately or in a set with spray.
Proper care of LCD and plasma screens from Inakustik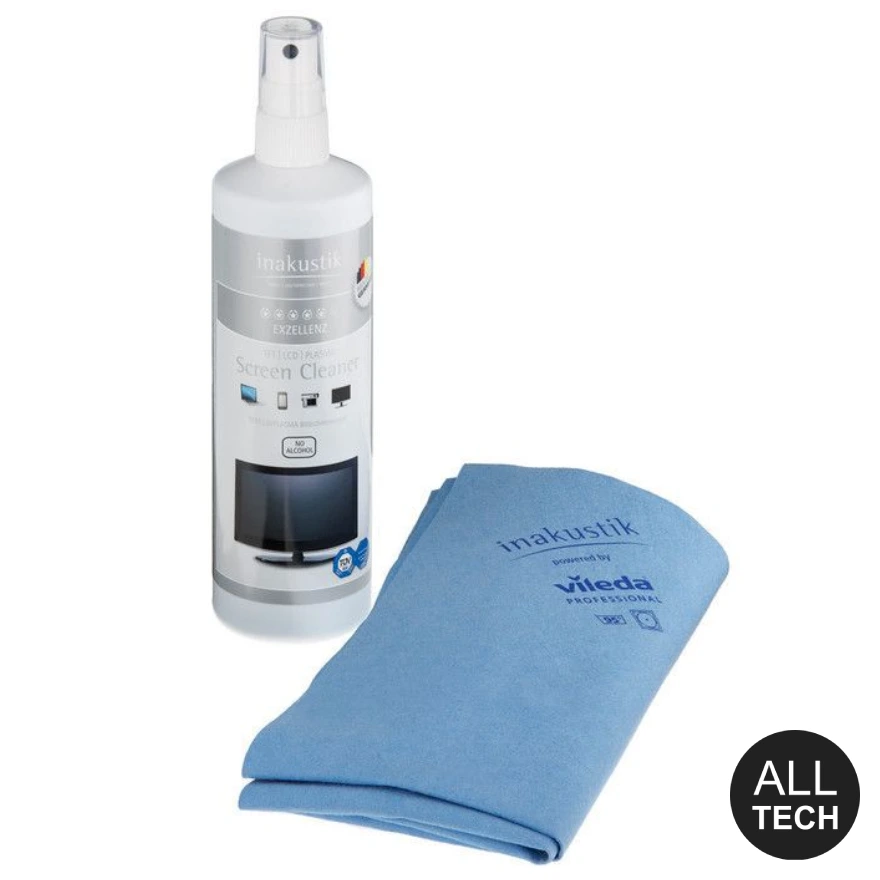 Products of the German brand Inakustik always receive positive feedback from their owners, without having any feedback on the product from the brand Inakustik, perhaps you can safely buy any of their products and do not regret buying in the future.
"Inakustik Exzellenz Screen Cleaner" - is a special set for cleaning all kinds of screens: LCD, LED, plasma and other glass surfaces. The kit consists of an environmentally safe biodegradable spray (alcohol-free) with a volume of 250 ml. and a micro-fiber cloth with a size of 38x40 mm.
Set "Inakustik Exzellenz Screen Cleaner", perfectly cleans the surface of any screen. After cleaning even slightly dusty screen, the image becomes cleaner, contrast. It can be assumed that this effect occurs due to the removal of static charges from the screen with this set.