Nowadays on the trade, have a very large selection of earphones and headsets of different design and cost from manufacturers of Japan, Britain, Germany, the United States, Italy, etc.. In this wide variety, it is very difficult to make the right choice.
Even a large number of recalls does not help to make the right purchase, because the owners of headphones can not physically compare all the models that exist on the market. In addition to the sound of the headphones, there is a factor of durability and to determine it, you need time.
In this review, we take a look at the clear leader among in-Ear headphones up to $150 (maybe higher) from UK. And if you are looking for what headphones or headset is better to buy for a computer, smartphone, audio player or for everyday use and maybe for the sports, in any case, try to purchase Cambridge Audio SE1, which in 99% will cover all your needs and save yours money. And that is why, in the review of the best in-Ear headphones, we do not have a top rating with a list of headphones from various manufacturers and different designs, because it does not make sense.
It may well be that fans of good sound who want more expensive top hi-fi or hi-end headphones should also consider the Cambridge Audio SE1. Because you will receive a decent option and with a save very large sum of money.
And attention, beryllium drivers are installed in this model. It's one of the materials used in hi-end solutions. And for example, competitors present you beryllium speakers minimum from $120! Cambridge Audio, offers you its product, for $35 on the today!
These in-Ear headphones are also equipped with a microphone that work with all Android devices and Apple, such as the iPhone. But for the latest iPhone models, you will have to use an adapter with USB-C to jack 3.5 mm.
And so, I'm sure that many of you are already ready to buy this product, and you can do it on Amazon right now. Well, and who wants to know more, let's start and start with the most important thing - with a review of the sound.
How do the sound best earphones Cambridge Audio SE1
Before buying, I was read the reviews of the leading media publications. And for example, "What Hi-Fi" gave these headphones, just three stars for a sound, he seemed to them "restrained". Others complained about the absence of bass or metallic overtones. This is not true, and I am confused by such reviews. The fact is that these headphones require a long warm-up, at least 250 hours, and all this time, you will be hear changes in the sound. Sometimes, it could be restrained sound, deffecit of bass or muttering, and more.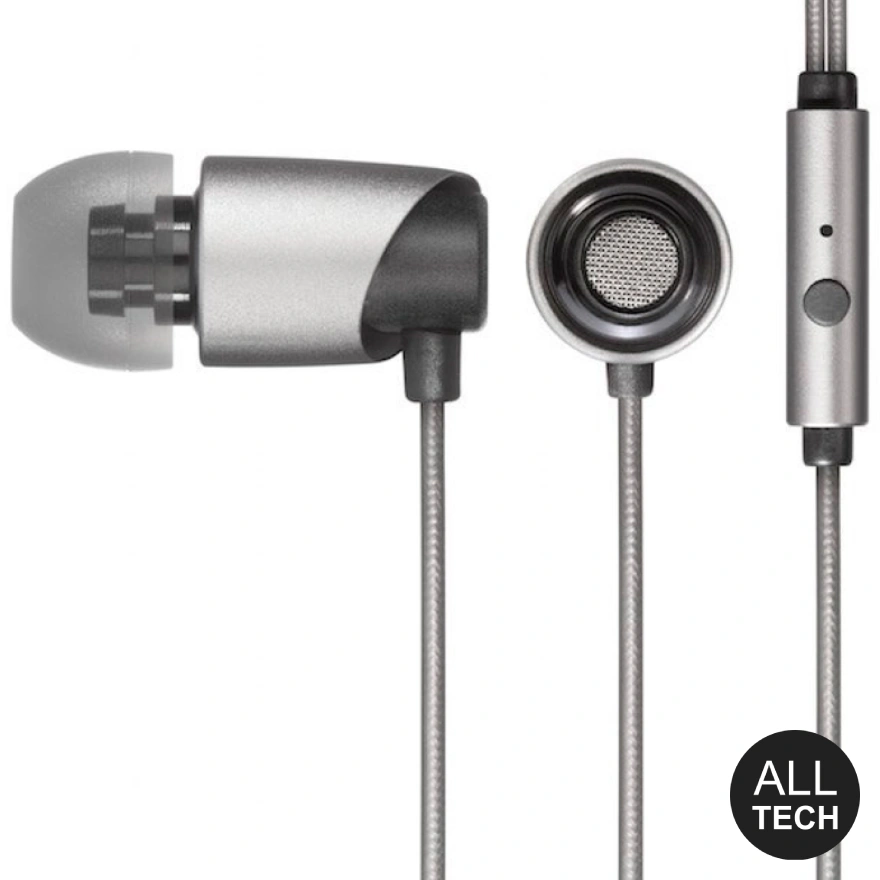 If talking short, this headset has a "control sound", what this is indicated by the manufacturer on the packaging "Beryllium in-ear monitors", level quality of the sound which the necessary for professional work in the studio. In sound, there is no colouring, no exaggeration from himself, the sound is absolutely not clamped. This is reminiscent of a lack of tracts in the sound system, what means that you hear the sound as it have really is!
With such headphones, the sound will primarily depend on the level of your source and the quality of the recording. If the soundtrack has big bass, beryllium drivers with a frequency from 19Hz will transmit bass with complete accuracy. And in fact, I am very surprised how this is possible for drivers with 8mm diameter. Sometimes I'm afraid of overloading of the drivers, because I hear an incredibly powerful bass, which is striking in its scale.
Mid and high frequencies also sound worthy. But I believe, that for high frequencies lacks air and this cause of is a frequency threshold in 20kHz. But in general, to the transfer of vocals or stringed instruments, any pretensions there, on the contrary the sound is very natural.
Cambridge Audio SE1 do not have a certain genre, they play absolutely everything: rap or hip-hop, techno, trance, jazz, rock or instrumental music. And this headset is suitable not only for listening to music, but also will please you in movies and games. But be careful, drivers not only convincingly convey the sounds of explosions, they have an "effect of presence". For example, on the one moment, I went to open the door because someone knocked, but as it turned out, this is sound was from the movie.
Of course, such a detailed sound is not always good for ordinary users. Agree, it is not always nice to hear the poor-quality work of the sound engineer, vocalist errors, deformation of sound in MP3 or flaws your sound card. Therefore, for most users, there will be a question of replacing the source and quality level of the files. You will want to switch to FLAC or WAV. Or buy a special DAC, because sources such as laptop, smartphone will not reveal the potential of sound of these earbuds up to half. I want to recommend for these headphones, a source of at least $100 or better, Cambridge DacMagic XS V2-DAC which received a lot of praise and so cheap, at a price of $75 (Pic.).
Micro and macro dynamics are also very good and the sound is transmitted good at different volume levels. On the high volume, there is no distortion and this is not only the merit of the drivers, but also the constructions of aviation aluminum of high density (Pic).
Very many in-ear headphones suffer from low volume and for this reason were returning by buyers back to the manufacturer. Cambridge Audio SE1, these are large and loudspeakers in your ears with a concert sound and even a weak amplifier will be able to cope with the declared 102dB.
In addition to the described positive sound qualities, this headset has a good microphone. Your interlocutor hears you very well, as if you are near. This is probably not the merit of the microphone, namely him design. The fact, is that the developers of Cambridge Audio, unlike most manufacturers, guessed to make a special hole in the body where he is. Thus, your voice enters the microphone, without any artificial obstacles (Pic.).
Equipment and construct of earphones Cambridge Audio SE1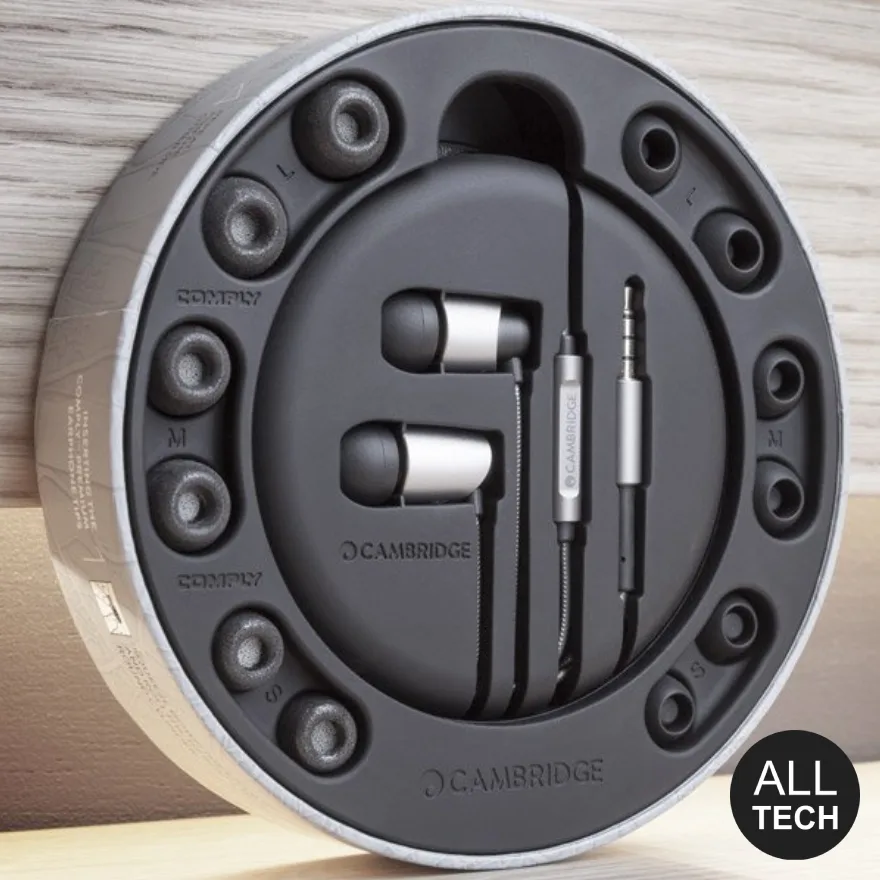 Equipment headphones are very rich (Pic.). What the buyer gets for a measly $35 in the set of the headset, it really is a deluxe gift. I did not find on sale anything close to what Cambridge Audio offers us, even among the top models of competitors.
First, a round box, looks very presentable, which says directly that there is something very valuable. And you, in any case will not be ashamed to give this headset to friends or loved ones.
Inside the box, you will also find luxury. The main ring of rubber in which you will find six ear tips of different sizes and materials, three of rubber and three of memory foam. In the center of this ring, something similar to a disk is also made of rubber, where the headphones themselves are very well-placed on which additional rubber ear tips are already worn.
And at the very bottom, you will find a special leather case for the headset (Pic.).
When you take the headphones out of the box, you also understand how durable this construction is. For six months of use, I have never been bothered for a breakdown. Not a single detail dangles, and the cable is very durable and it's hard to straighten. And by the way, as indicated by the manufacturer, the cable here is special audiophile, so as not to lose the slightest nuance of sound!
And finally, in conclusion, let's look at the form factor of ear tips. Unfortunately, tar has crept in here, which some do not really will like.
The fact that the rubber ear tips do not allow you to get comfort in wearing, on the contrary they are not terribly comfortable. Yes, I tried all the sizes and settled on the medium ones, because the others were either too small or too big, which just don't fit in my ear. Ear tips are medium-sized, not easy to stick in your ear and to do this, you have to lift the top of the ear. Only, after this procedure, the headphones in the ear sit very tightly that will fit even for running, but pain appears.
Rubber ear tips also do not have high sound insulation, for the above described reason. And for those who listen to music in the subway or on the bus, the lack of good sound insulation can be frustrating.
Ear tips from the form of memory sit better and less pressure. But they have a grid, which reduces the sound quality and for this reason I refused them.
I do not believe that ear tips can be a serious obstacle to purchase considering all the pros. And moreover, most users are always looking for special ear tips which ears with special improvers of sound. But still, I would like....