A tablet is a mobile computer, now known to almost every device. In fact, behind these concepts lies a rather diverse and colorful world of gadgets, United by the fact that they are all focused on mobility and not control the usual keyboards and computer mice, like their fellow laptops, and fingers with a touch screen, in extreme cases a stylus or a digital pen.
Starting a conversation about them, probably, it would be more logical to first of all divide them by the type of operating system used, namely: Android, iOs and Windows, the latter in two guises Windows 8, 10 and RT. It is in this sequence that the market shares of these assets are distributed. Android-the leader installed on more than half of the sold wearable computers of this class, and in outsiders equipment on the platforms of Microsoft.
Why you need this gadget and that it is better to choose the decision of the individual, whichever is closer...
Types of tablet PC and their purpose
Mobile tablet a gadget that will find a place in your bag, pocket, however, not in each - is a compact device with a screen 7-9.7 inches of well-known, or not very brand, easy, productive, a kind of personal cinema, music center, BookReader, and even with Internet access. This assistant is constantly at hand, which can perform both utilitarian functions and emphasize the status of the owner, to become an element of the image.
The choice of such devices is very wide, there are expensive Apple, Samsung, Sony and others, up to a host of Chinese 50-dollar products. You can choose for every taste and budget, for any requirements. Large-format seven-inch devices are excellent candidates for the role of an entertainment device that allows you to pass the volume on the road while watching a movie or playing a game, which, thanks to a small display, is convenient; it does not take a significant amount and weighs very little. Eight-inch-better suited for Internet surfing, reading, gaming, although this does not mean that the video show them "not on the shoulder", the rest versatile, suitable for any task. This segment is dominated by devices built on energy-efficient mobile processors and using Android, Windows Phone or iOs. Desktop hardware running on Windows is very rare in this class.
Do not forget about the installed cameras, usually two of them: rear for communication in programs such as Skype, front for photo and video. At the same time, the front cameras of the best representatives can argue with inexpensive photo mills. Often, there is the ability to connect to a global network via Wi-Fi and 3, 4 or 5G, which will allow "online" to share experiences with friends.
This device is a great candidate to take a place in a travel bag during your vacation, entertain in transport movies, play games, help connect with friends on social networks or use Skype and call home.
The next class is a home tablet. The division into home and mobile is very conditional, for simplicity, we assume that devices with diagonals denoting a two-digit number are more suitable for use on the couch or at the office desk.
These devices have a screen size of 10-13 inches or more. Different from their more compact counterparts, naturally, size, weight, battery life. Can be equipped with both mobile and desktop hardware filling, and the corresponding operating system. Otherwise, this class is identical to the mobile it can also be taken on any trip, unless you are confused by its size and weight.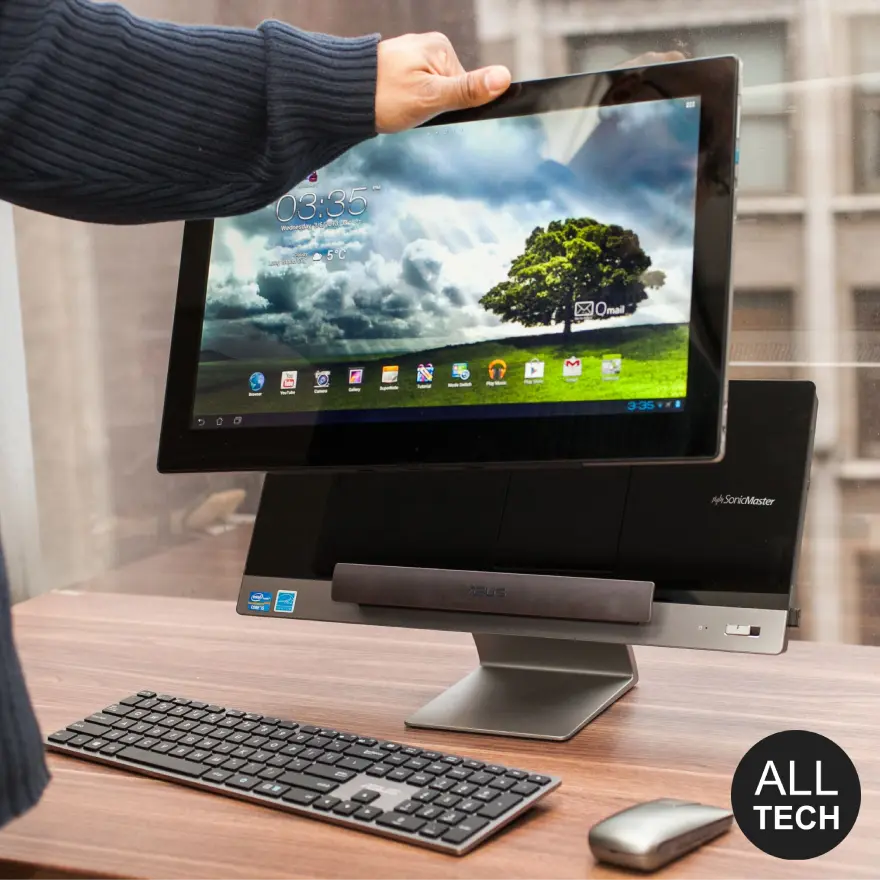 Another thing, if it comes to, for example, 20-inch Sony Vaio Tap 20 or Lenovo IdeaCentre Horizon (Pic.), having 27 inches. In this case, the issue of mobility fades into the background, because to carry such a "TV" is already inconvenient and difficult, but to replace the home computer, which can be, as needed, moved from place to place and used as a touch surface or interactive table, it is possible.
Naturally, "hardware" in such "monsters" is more serious along with mobile platforms and mobile operating systems and filling for them a rarity.
But the imagination and capabilities of manufacturers do not stand still and are not limited to the types of mobile devices described above. New concepts of perspective gadgets are created, sometimes controversial devices are produced. For example, Asus Transformer AiO (Pic.), which is a hybrid of an 18-inch tablet and a single-unit computer. In offline mode, it runs Android, and when connected to the system unit, it turns into a display of a computer that uses Windows 8. Two operating systems, two devices with their own processors, memory, drives, that's just a rather big cost, and 18 inches for a home computer, in our times, is not enough, and more than two kilograms to carry a lot.
Despite the large number of advantages of these devices, there are also disadvantages, perhaps the most significant of which is the poor suitability for working with documents in cases where you need to type or edit text, fill in, correct or format the table. Virtual keyboard is not the best solution for such tasks. Therefore, there is a need to cross the touch screen with the keyboard, combining the advantages of this mobile device with the advantages of a laptop. And there was another class a hybrid tablet and laptop (Pic.).
Manufacturers have proposed several solutions to this problem. The most logical thing is to use an external keyboard, but not just connect it via USB or Bluetooth, and perform it as a stand, often providing more and charging, additional drives and ports for communication with external devices. As a result, we have, firstly, an ordinary tablet that can be used to read mail, watch a movie or surf the Internet in transport, on vacation, on the road, and, secondly, a laptop with a full keyboard, if you insert it into the dock.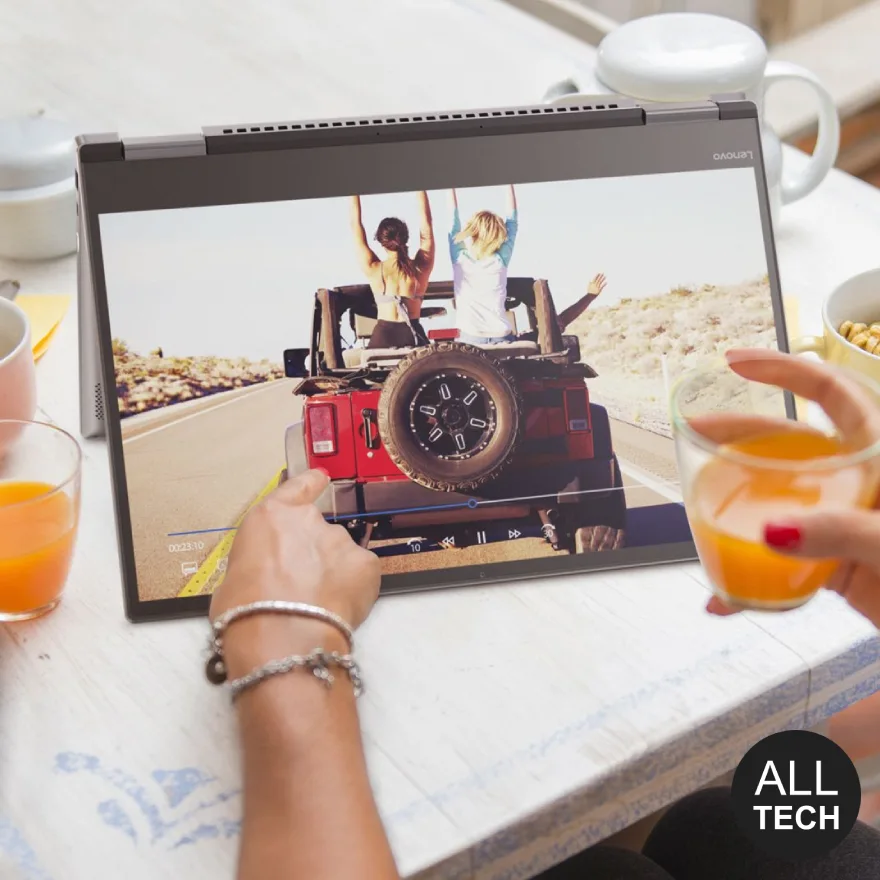 Manufacturers have proposed several solutions to this problem. The most logical thing is to use an external keyboard, but not just connect it via USB or Bluetooth, and perform it as a stand, often providing more and charging, additional drives and ports for communication with external devices. As a result, we have, firstly, an ordinary tablet that can be used to read mail, watch a movie or surf the Internet in transport, on vacation, on the road, and, secondly, a laptop with a full keyboard, if you insert it into the dock.
Another option is the principle of "I carry everything with me", the display and the keyboard are inseparable from each other. If necessary, use the keyboard to flip the lid and get a laptop; if the need for it has disappeared - close the lid so that the screen was turned out, allowing them to use as a normal tablet. One of the noticeable drawbacks is the weight.
Another proposed option was concepts equipped with two displays located on both sides of the laptop cover. In addition to weight, there is a problem of cost, as far as the consumer is willing to pay for all this farm. However, similar models are already available from Asus, Lenovo. As for the choice of platforms, there are both purely mobile combinations and filling, common for desktop computers. Screen size, usually about 10-13 inches.
Tablets PC subspecies and their purpose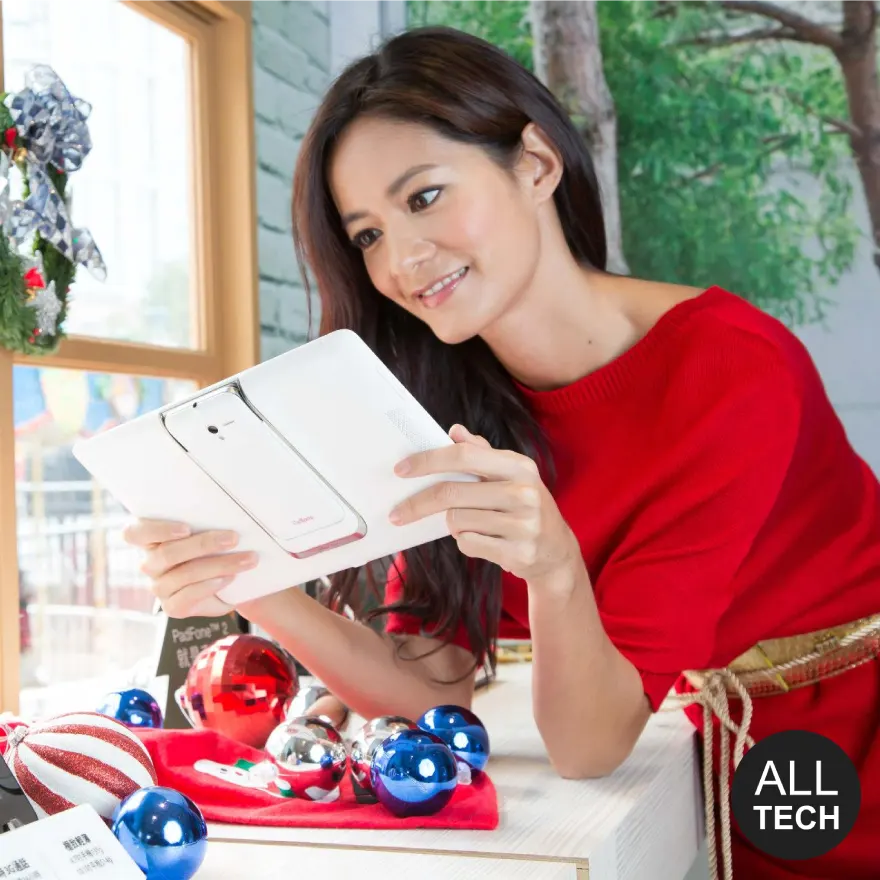 In the highly competitive smartphone market, manufacturers, increasing the megahertz of used processors, megabytes of memory, megapixels of built-in cameras, gradually came to a reasonable limit of the screen size of 4-4.5, well, maybe 5 inches, when it still fits well in your pocket, fits well in your hand and it is still easy to operate this very hand. Having reached this limit, many of them, without stopping, stepped over it and moved on, presenting to the court of consumers mega smartphones or mini tablets, with screens 5.3, 5.5, 5.9, 6.1, 6.44 inches, calling them "tabletphone" or "phablet" (PHone+tABLET).
We cannot say that they are hopeless. On the contrary, according to some analysts, they will be in demand, becoming universal gadgets that can replace the younger tablets, adding to them the opportunities that the smartphone is endowed with.
The docking station is in this case a passive thing, inoperable in itself. But this has its advantages: there is no need to synchronize the two devices, you can start on the road to watch a movie or read a book, you can continue it already on the big screen by inserting the smartphone into the dock, at the same time to recharge it. And to communicate online, surf the web, without peering at the small image, it is more convenient.
Disadvantages that can be seen immediately. First, in the case of problems with the smartphone dock becomes a completely unnecessary thing, and secondly the cost of this kit. Yes, buy a smartphone and tablet is likely to come out more expensive, but the devices will be two, and in the version with PadFone is, in fact, something almost useless, I mean the dock, a slight movement of the hand turns into something very convenient.
In General, the idea is interesting, somewhat controversial, but having both pros and cons, found its adherents and may be developed in subsequent modifications.
The tablet for designers - is a class of devices focused only on designers, creator, illustrators. This is a special subspecies of mobile technology, which includes both input devices without its own display, connected to a working computer, and independent, equipped with its own screen. The first model can be attributed to the company Wacom (Pic.) Intuos, Bamboo, the second Cintiq of the same manufacturer.
As a rule, there is a control panel on which there are keys, touch pads that allow you to operate files, drawing elements, zoom and perform other necessary functions. Another difference from the usual devices of this type is the presence of a digital pen that can recognize from 1024 to 2048 levels of clicking on it, which is very important when working with drawings, creating illustrations.
The sizes are also different. From a very portable device that you can take with you and make sketches as necessary, to equipped with a screen size of 22 inches and more workplace animator, Illustrator, designer.
The use of graphics, design software requires serious computing power, so the use of Intel processors of the latest generations, high-performance graphics cards is a necessity, and Windows is a logical choice. These devices are not cheap, but they are not for everyone. Specific equipment at a special price.
Another subclass tablet for children or students. Children were all, played soldiers, rolled cars, built from cubes locks, towers, drew. Today's children also play, ride, build, draw, but, given the current digital realities, often prefer to do it on the screen. Special tablets are also available for younger users.
These devices must meet some specific requirements. First, the enclosure should be shock-proof, made of metal or shatterproof plastic, because the child may drop. Also don't must to detach, to break off, get no small parts. Secondly, the screen in 7 inches is enough-less chance of mechanical failure, and for children's pens is more convenient. Third, not bad if have special educational programs, books and a shell that allows parents to control access to the Internet, but does not interfere with their child to play, read, learn.
P.S.
Tablets firmly settled in our lives, and seem to be not going to leave, becoming habitual companions on trips, on vacation, helping in work and entertainment, pushing netbooks with 7-10 inch, substituting 3-5-6-13-megapixel "leg" to digital cameras, ominously glancing in the direction of laptops.