Home audio technique delight with the sound of the house, headphones allow you to hide from everyone or, on the contrary, not to disturb others. And how can the whole company listen to music at a picnic, at a summer dacha, on a hike? After all, a car with open doors is not always nearby, and not always appropriate. Music lovers and their friends will be helped by a good portable speaker that runs on a built-in battery and receives a signal from the gadget via Bluetooth. In this rating, we have collected the coolest options for 2014 year.
TDK TREK Micro A12: best waterproof speaker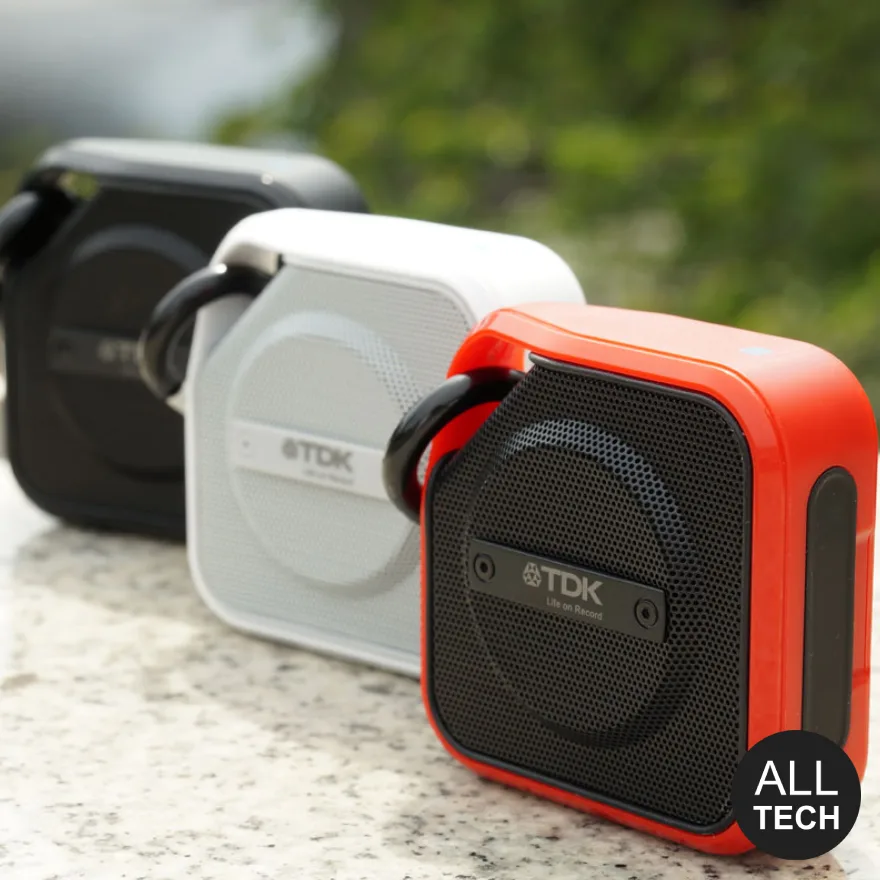 The TREK Micro A12 is available in next colors: black, red, and white for $50. The portable speaker has an IP64 certification that provides water resistance and dust protection. The device can be attached via a carabiner that is included, especially since the weight is very small, only 182 grams.
On the front side of the device is a single 40 mm speaker with a power of 3 watts. And on the back side there is a passive radiator. In General, the sound is more than expected for such sizes, there are no wheezes at the maximum volume and the overall volume is quite enough. Connecting A12 to the audio source via Bluetooth (2.1 + EDR), using the A2DP profile. There is also a standard 3.5 mm audio jack.
The portable speaker is powered by a built-in Nickel-metal hydride (Ni-MH) battery, and its charge level is replenished via the computer's USB port. The working time lasts up to 7 hours.
B&O Beoplay A2: best outdoor speaker
Large audio system capabilities are not always associated with large dimensions. BeoPlay A2 for $350 is equipped with passive bass emitters on both sides and a broadband driver connected to separate amplifiers. This arrangement provides excellent sound quality even when selecting a high volume level and with a two-way orientation.
BeoPlay A2 is small and weighs only 1.1 kg, which allows you to carry it in a backpack or even in a large purse. In addition, a convenient shoulder strap is offered for the device.
BeoPlay A2 is compatible with any mobile devices that use Bluetooth. It can work with popular online streaming services, including Spotify and Deezer.
Do not worry about the need for frequent recharging of the device. Its battery capacity is enough for 24 hours of continuous listening to music when you select the average volume level.
Divoom Voombox Travel 3: best waterproof speaker
The Divoom miniature speaker is positioned as a convenient solution for listening to music in nature and stands out for its democratic price tag of $50.
The case have protection for dust and moisture (from splashes), and the complete carbine provides extensive mounting options, including on clothing, a backpack or various tourist equipment.
Voombox Travel 3 is equipped with a 4-watt monophonic speaker (its diameter is 2 inches) and on the back side is supplemented with a passive emitter to improve the sound of low frequencies. The sound is generally good, but TDK Micro A12 sounds better and if the sound quality is fundamentally important to you, then you should look in the direction of TDK. But TDK does not support NFC and creating stereo pair over TWS. The Bluetooth 4.0 module is used to transmit the audio signal, in addition, devices can be wired via mini-Jack.
The battery provides up to 6 hours of battery life for the speaker.
Cambridge Audio Minx GO V2: best home speaker
Minx GO v2 for $120, is made in a small case made of high-quality plastic, pleasant to the touch and resistant to contamination.
Under the protective mesh covering the entire front panel of the system, a full-fledged two-band stereo acoustics is hidden. Each channel uses a single low-frequency driver with a diameter of 50 mm, and a Squeaker with a titanium dome. To extend the range of bass played, the Minx GO v2 is equipped with an additional passive bass emitter mounted on the back of the case.
Minx GO v2 is equipped with Bluetooth, NFC, and an improved aptX audio codec. The latter, when running Minx GO v2 with compatible signal sources, is able to provide sound quality as close as possible to CD-Audio. The device is also equipped with a line input on the mini-jack connector for connecting any players, as well as a USB connector for charging various gadgets.
The built-in Li-ion battery capacity of the Minx GO v2 lasts for about 18 hours of operation at an average sound volume.
Bose SoundLink III: best portable speaker
The $500 Bose SoundLink III is theoretically a portable speaker, but in reality it is still a stationary version. This device don't take it with them, but put it in the guest room, run a network cable, and play the best music what know. This is a column with a chic sound and bright stereo effect, which is bought for a long time.
The overall impression of the design can only be obtained by holding the speaker in your hands. In the photo, it seems larger than it actually is. But the weight here is really powerful: an additional 1.37 kg in the bag will not go unnoticed.
The space inside the case is clearly used with lethal efficiency. Including the battery: 14 hours of battery life do not lie on the road.
You can connect external devices to the device either via Bluetooth or using the traditional "minijack" standard.
JBL Authentics L8: best streaming speaker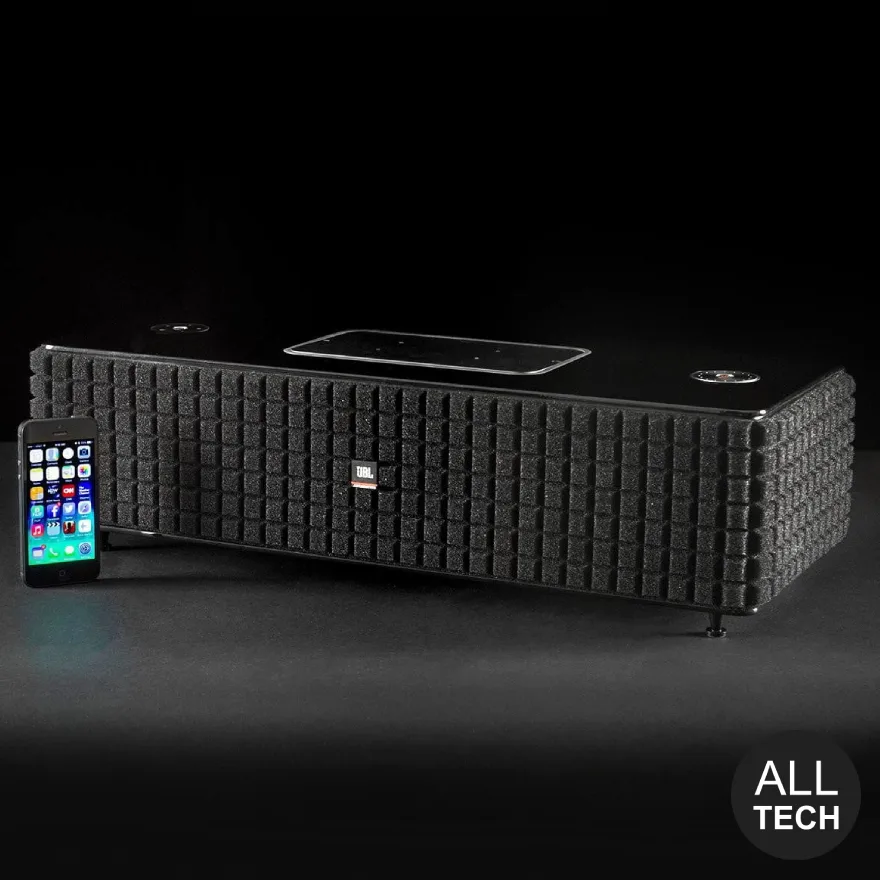 The Authenticics series is the first to use Harman Clari-Fi technology, which is a technical and software algorithm for signal processing. It is designed to restore the quality of the audio track that was lost during compression to MP3 format, and adds new details to the sound that were originally thought out by the sound engineer. The audio signal is transmitted via AirPlay, DNLA or Bluetooth in 96 kHz/24 bit Studio quality. Moreover, it is compatible with both Androids and iOS
Authentics boasts considerable power. The two-channel L8 has two pairs of speakers for low and high/medium frequencies, four amplifiers for each of them with a total power of 120 watts and a sensitivity of 104 dB.
When you create the Authentics have been used quality materials. The radiator grille is made in a classic retro style, in its performance you can guess a reference to the design of floor acoustics JBL Century L100, released in 1970. This visual design allows you to seamlessly combine Authentics with almost any interior.
The cost of the L8 is $600, which made the L8 the leader this year eclipsing the beautiful Naim Mu-So. By the way, there is a more powerful L16 model for $1000.
Infinity One: best waterproof speaker
The first portable speaker system was released under the Infinity brand, and its quality is guaranteed by a combination of three factors: the experience of Harman, the premium approach to acoustics of Infinity engineers, and the real commitment to quality sound of the Linkin Park group, who participated in the creation of this stereo system.
Incredible sound quality in a compact device allows you to feel the full power of your home stereo system, wherever you are. The Infinity One case contains four 1.75 " drivers and a 25-watts amplifier. Two passive emitters on the ends make the sound deeper and richer. Infinity One supports connecting to any mobile device via Bluetooth, as well as a standard 3.5 mm stereo input.
At the same time, there is also a USB input for charging third-party gadgets: the built-in battery is enough not only for 10 hours of listening to music, but also to avoid being left out of touch due to a discharged smartphone.
Infinity One does not need an additional travel case: rubberized plugs protect the connectors from dust and moisture, and the case is not scratched due to the use of cermets. The price of Infinity One is $299.95.
Denon Envaya Mini: best portable speaker
Envaya mini is a cylinder on legs for $120. There are no bulging buttons or anything similar in the design, the device looks solid, monolithic. The fabric comes in different colors, there are very nice and interesting combinations, although white metal and orange fabric are out of competition.
Two forty-millimeter broadband drivers and a passive radiator play music, as well as proprietary technologies like MaxxAudio. It also supports trendy codecs like the same aptX and CVC from CSR, which have not yet settled in the iPhone, and fast connection to the audio source using NFC.
The volume of Envaya is also at the level. And the office will sound, and the room is large, there is a reserve, although at maximum volume, of course, the frequency will be slightly filled up, but there is no wheeze. The stated operating time of Denon Envaya mini is about 10 hours.
Dali Kubik Free: best home speaker
Dali Kubik Freya with price $900, the device is self-sufficient and functional. But you can fully implement the developers ' idea only by purchasing the second column called Kubik Xtra.
The Dali engineers clearly wanted to take into account the maximum number of possible uses of acoustics. The USB port with the ability to connect to a PC makes Dali Kubik Free high-quality computer acoustics. The optical input is used to connect to the TV. The analog input makes the Dali Kubik Free virtually a standard component of the stereo system. Perhaps the main way to connect is via Bluetooth, compatible with almost any smartphone or tablet, including iPhone, iPad, and all sorts of Android-based devices. And support for the aptX codec allows you to make a wireless connection as high-quality as a normal wired one.
In terms of sound quality, Dali Kubik Free paired with Kubik Xtra are quite capable of competing with Hi-Fi acoustics working through an amplifier, and this combination with the same sound quality will cost clearly more than a Duo performed by Dali.
JBL Charge 2+: best portable speaker
JBL Charge 2+ is a keg worth $150 in a splash-proof case, which not only reproduces tracks efficiently, but also is able to share the accumulated energy with third-party gadgets. Charge 2+ works as a Power Bank and not to the detriment of itself, because the volume of tanks in the built-in battery with a capacity of 6000 mAh is enough for everyone. For example, the model can play music for up to 12 hours continuously.
Two speakers on Board Charge 2+ give a total power of 15 watts. The speaker plays loudly and at the same time qualitatively, surprising the thoroughness of the bass. From Bluetooth, one may connect three devices simultaneously which allows you to start playing tracks from different devices in turn.
The protection of the model body from moisture and dirt allows you to operate it in the rain, but it is not recommended to submerge the column under water. Another role of the device is hands-free communication for mobile phones.