In 2018, the market for wireless audio, received 2 models from the Scandinavian furniture factory IKEA. This undoubtedly indicates a high consumer demand for this range. Well, if two models from IKEA entered our top rating of 2018 wireless speakers and were able to compete with the leading of world audio companies, it says that the market is not so much filled with such craftsmen, the demand for which is growing every year.
Ikea Eneby speaker: best for home
Suddenly, the company IKEA, which is a world giant in the production of furniture, has released its nine models of Bluetooth speakers. It would seem, how can a furniture company make an audio product that can compete with the world's companies that have been producing audio for decades?! It turns out that models from IKEA can also be a very good purchase! Namely, two models of "ENEBY".
The difference between these models is in size, power and the small model have a handle for carrying the device. The older model has two bass speakers and one high-frequency, and the younger one has one bass speaker and one high-frequency. Everything else is same.
You may think that the Scandinavian design is very dry, but in General, models from IKEA will easily fit into any interior and will please not only your eyes but also your hearing. Despite the fact that these devices reproduce mono sound, in General, the design for sound was so successful that the sound strikes you with its integrity, volume, scale, bassiness. Especially, these advantages are more evident in the big model, where two mid-bass speakers are installed (the younger one has one) and one high-frequency one. The massive bass port is displayed on the back side and therefore, these Scandinavian speakers should not be placed near wall, as recommended by IKEA.
Here is no built-in battery and therefore, this Scandinavian friends should be located only near the outlet. The cost of the younger model is $49, the older model is sold for $79.
Archeer A320 speaker: best aesthetics
For several years in a row, many people choose the "Archer A320" primarily because of its design and low price ($40-50). In reality, this gadget with a natural bamboo front and back panel looks much better than in the photo and will easily fit into any interior. Its other four sides are finished with decorative fabric, which is very well combined with bamboo panels.
This design also has a disadvantage: bamboo can react to humidity and deform. But the developers were initially focused on creating acoustics for home use, as indicated in the product description. Although mobility is not excluded, there is a battery that holds up to 11 hours of music playback.
"Archer A320", not only looks good, but also reproduces sound with dignity. There is a bass, thanks to the presence of a subwoofer in the center and a bass port on the back side. But on some recordings, distortion may occur at high volume, due to not quite correct bass sport settings.
Another small minus is the lack of silicone gaskets on the bottom of the case. That is, the case is installed on the bottom of fabric and bamboo, which can cause not only rapid wear and dirt on the body, but also negatively affect the sound due to vibrations.
Elac Discovery Z3 speaker: best sound technologies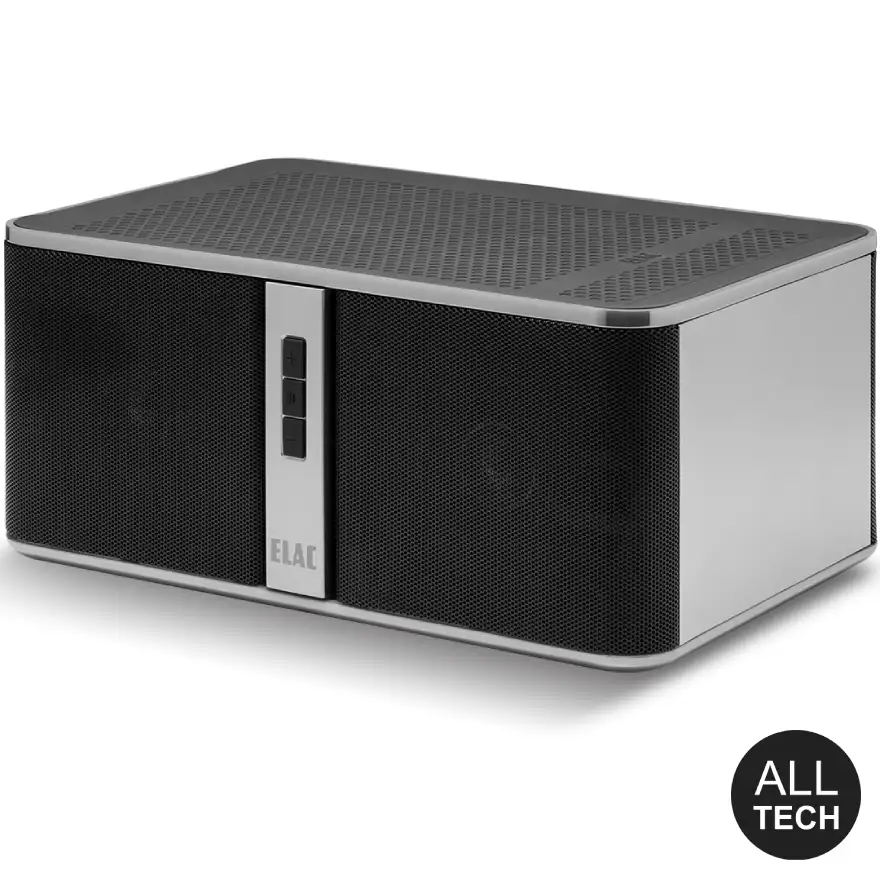 This is a full-fledged stereo device, in which a pair of 4-inch woofers are adjacent to a pair of inch tweeters in a coaxial configuration. In addition, there are a pair of woofers loaded on passive radiators. The gain is naturally in-band, 28 watts for each active emitter, totaling almost 170 watts.
Not only does the "Discovery Z3" provide excellent sound quality, it significantly simplifies one of the main problems of all wireless speakers, it the process of connecting them. The app, compatible with iOS and Android, connects the Z3 to a local network just as easily as it does via Bluetooth. This speaker provides installers and users with excellent voice-over capabilities for almost any home - says Chris Walker, ELAC's Vice President of product development.
The legendary Andrew Jones took part in the development of the "Discovery Z3". The only compromise that can push you away from buying the "Discovery Z3" is the price of $600.
Harman Kardon Go+Play Mini 2 speaker: best for outside and home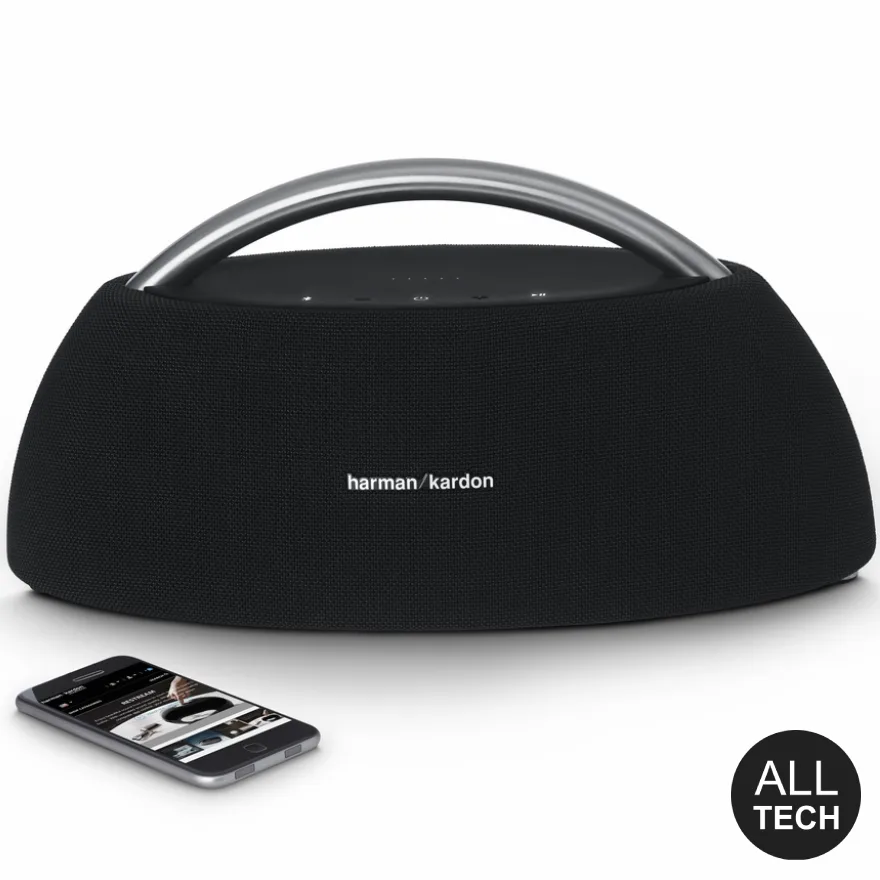 This solution was created specifically to jump with friends and listen to music at home at your leisure. "Go+Play Mini 2" has a great sound and plays loud.
Deep and low frequencies sound very good. They are so clear and deep that they can be felt somewhere under the chest, in the area of the diaphragm. Listening to electronic music and hip-hop is a pleasure.
The power of volume of "Go+Play Mini 2" can rock a small party. If you turn on the music at full volume in the apartment, you will inevitably be visited by neighbors.
The "Go+Play Mini 2" is not waterproof, it does not have color like khaki, burning lights along the contour and other tinsel. But it has a high-quality sound, which is crucial for acoustic systems.
But for all these joys, you will have to pay a lot. The cost of the "Go+Play Mini 2" for about $300.
Toshiba TY-GC1000 speaker: best for Google Cast
This year and the Japanese company Toshiba pleased with its $100 solution. Having released on the market equipped with a lot of functions and in a minimalistic design, a square-shaped speaker with a fabric cover that will harmonize with any interior.
The compact case of the "TY-GC1000" contains two drivers of 15 watts, which sound clean and almost without distortion at high volume. For bass support, not passive radiators are responsible, as usual, in such models, but the bass port located on the back side.
At the same time, you can listen to "TY-GC1000" not only via Bluetooth or Aux Input, but also over a wireless network with Google Cast support. You can also build a multiroom with other devices that support Chromecast. And through the IP for the speaker, you can access the equalizer, and configure the sound for yourself.
Harman Kardon Onyx Studio 5: best price for premium
"Onyx Studio 5" visually resembles a designer handbag and, according to the company itself, is suitable not only for fans of the brand, but also for fans of high-quality sound and stylish things. In addition, it is very convenient to move the acoustics from place to place.
In the new generation, Harman Kardon engineers significantly redesigned the technical part. A 120-mm speaker is responsible for low and medium frequencies, while the upper ones are given to a 25-mm tweeter. In total, the speakers play in the range from 50Hz to 20kHz, and the power supplied to them is 50 watts. From two speakers you can assemble a stereo pair using Wireless Dual Sound technology.
The acoustic controls are embossed, located on the front panel of the device and match its color. Studio 5 sources are connected via Bluetooth 4.2, and the device can simultaneously play music from two sources. The battery of the speaker will last for 8 hours of operation away from the outlet.
There are three finishes available: gray-silver, black-silver or blue-gold for $250 for one.
House of Marley No Bounds speaker: best compact size
Portable column "No Bounds EM-JA015-SB", presented in four colors of the case. Of course, like all other Marley products, they are made from per-processed and eco-friendly materials. The device not only at home, but also on the street: its silicone case has a moisture-proof design that meets the IP67 protection standard. The column is not afraid of dust, water splashes, or rain.
"No Bounds" will delight you with the high-quality and loud sound of your favorite playlist, in which you can hear a rich and deep bass, crystal clear tops and a balanced middle. Miniature "EM-JA015-SB" round shape, is able to produce a sound power of almost 93db at 3.5W, which is much louder than the main competitor JBL Clip 3 and for same coast ($60).
"No Bounds" is equipped with a microphone that turns it into a hands-free device. You will be able to conduct a conversation with the subscriber on the other end of the "wire" directly from this column. Bluetooth wireless technology is used to connect the device to a smartphone or tablet. There is a possibility of pair connection.
Up to 10 hours of continuous sounding of your favorite tracks is guaranteed by a capacious battery with recharge via micro USB.
Elac Navis speakers: best stereo pair
Elac has captured the hearts of audiophiles with its new "Navis" line. These are active floor and shelf speakers with high-end amplifiers that work in class AB with proprietary BASH technology and develop a total power of 300 watts. The low-frequency section has 160 watts, the middle section has 100 watts, and the high-frequency speaker has 40 watts.
The shelf model "ARB-51" feature a 5.25-inch aluminum woofer and a coaxial midrange/treble driver with a 4-inch aluminum midrange section diffuser and a soft-inch tweeter. The speakers play frequencies in the range from 44 Hz to 28 kHz.
The floor model "ARF-51" use the same concentric loudspeaker, but it is supported by three bass players playing at 43 Hz. The "Navis" have bass-ports on a back side, and the floor version have three of them.
Switching capabilities of both models are the same: there are balanced XLR, unbalanced RCA and wireless interfaces like Bluetooth, Airplay, Spotify Connect, Roon and DLNA. Wireless capabilities provides a hub of Discovery Connect. The rear panel has a few adjustments of the tone control and tuning functions.
The ELAC ARB-51 price $2,000 and the ARF-51 $4,000. The "Navis" series is available in three colors: black and white lacquer, as well as in striped ebony veneer.