The new year 2019 has arrived, which means it's time for new models of wireless speakers! Of course, the new favorites of 2019 have become even better. Many brands have also updated their successful models, but still kept their previous price. And so let's look at the best Bluetooth speakers of 2019!
Harman Kardon Onyx Studio 4 speaker: best price and quality
Updated version of "Onyx Studio 4" from Harman Kardon, just perfect! And not only in its price range, "Onyx Studio 4" will also give a head start to more expensive competitors! And Yes, if you decide to save money and buy a wireless speaker for home at a cheaper price, it's still better to add a few dollars and buy "Onyx Studio 4", especially since the price ranges in diapason $80-130 and is available to many.
Secondly, "Onyx Studio 4" stands out for its level of sound quality. The case is equipped with two two-way speakers that work in stereo mode. And one bass passive radiator on the front panel and a second on the back. The result is a balanced, powerful sound without wheezing at high power.
Third, "Onyx Studio 4" has a modern design that will appeal to most and will look good in any interior.
And in the fours, "Onyx Studio 4" stands out for its technical content. Here you can access Siri or Google. With HK connect +, you can build a multiroom connection of up to 100 speakers. There is also a rechargeable battery that will allow you to enjoy the sound up to 8 hours of operation.
Scijoy WT-003 speaker: best station wagon
This compact audio device costs an average of only $30-40 and at the same time more than closes all questions for the ordinary buyer of such gadgets Compact device from Scijoy, has a decent design with protection from water and dust according to the IPX6 standard. This means that you can use this audio gadget at home and in nature or on the beach, and maybe even in the shower!
Despite its small size, the volume of sound is enough for you. Two speakers of 9 watts and two passive bass radiators, give a full-fledged sound without distortion. At the same time, the sound quality is also at a decent level.
Don't you have enough volume of sound?! Then connect a second, similar "WT-003" speaker with the TWS function and enjoy expanded stereo sound!
Playing time at medium volume is 12+ hours. There is also a built-in microphone that works with Siri or for phone calls.
The product from Scijoy is probably one for many of the best options in our top ranking due to the lowest price and combination of high quality.
EarFun Uboom speaker: the best for active life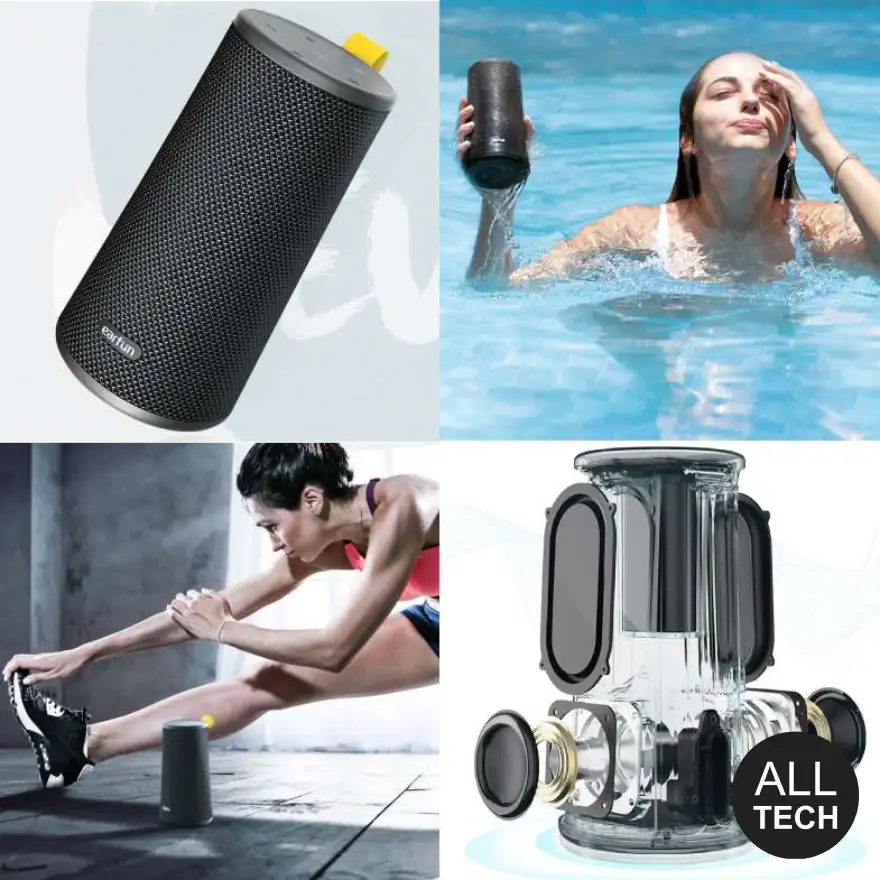 "Uboom" is a direct competitor to Bose SoundLink Revolve. And the device from Bose loses to it because of the cost, which is three times lower ($50 VS $150 and the presence of additional functions that Bose does not have.
The ambient sound in the "Uboom" design is implemented by placing the speakers on opposite sides of the case. That is. this is not quite an entirely honest sound, but still, in practice, it does not cause problems. At the very bottom of the cylinder, there are two speakers with a diameter of 4.5 cm and a power of 12 watts. And above these speakers, there are two more passive bass radiators, which are almost three times more. It is not difficult to guess that the sound of this cylinder is very good power! The developers also took care of not only the power, but also the sound quality, and perhaps "Uboom" sounds a little better than SoundLink Revolve! And if you want more powerful sound, connect the second cylinder via True Wireless Stereo using Bluetooth 5.0.
Another nice bonus, the gadget is protected from the external environment by IPX7 Protocol and works up to 16 hours on the battery. That is, everything is created so that you can lead an active lifestyle listening to your favorite music!
Anker Soundcore Motion+ speaker: best for audiophiles
Compact Soundcore Motion+ is a great solution for active lifestyle and travel. This gadget will not take up much space wherever you are and wherever you put it. Its size allows it to easily fit even in a small bag. High level of protection from water and dust IPX7, allows you to use the device in the most severe weather conditions. And playing music up to 12 hours is quite enough for small trips.
But its most important feature, which distinguishes it from other competitors, is the audiophile filling. This small gadget has a Hi-Res Audio codec that transmits from Bluetooth 5.0 audio using Qualcomm aptX technology. There are also separate power supplies for each of the two low-frequency speakers. The presence of tweeters increases the accuracy of the sound. In the center is a one passive bass radiator. In result the frequency range extends from 50 Hz to 40 kHz! You can also build a wireless stereo pair by connecting same device.
In General, Anker Soundcore Motion+ is a portable device not just for audiophiles, but for extreme audiophiles! $80 average price.
Harman Kardon Citation speakers: best wireless ecosystem
The family of "Harman Kardon Citation" is not just another series of products, it is a whole wireless world that opens up the widest possibilities of audio broadcasting at the modern technical level. The series includes eight models of active wireless speakers that differ not only in the caliber, number of speakers and power, but also in the functionality that largely determines their purpose. At the same time, all models are built on a single digital platform, which makes it easier for them to work together.
The youngest models of the line "Citation One and Citation 100", belong to the category of well-known wireless mono blocks that can be found in the kitchen, children's room or bedroom of any modern home.
However, unlike countless competitors, "Harman Kardon Citation" mono blocks are not only distinguished by the premium design and finish characteristic of the entire series, but also provide the widest possible integration into the home computer network.
For the junior model from the Citation series, you need to pay $100, and for the eldest $2000.
EarFun Go speaker: best compact size
Equipped with two 12-watt speakers and a passive emitter (low-frequency amplification), the "EarFun Go" delivers powerful bass and clear mid-and high-frequencies with high sound quality!
Advanced DSP technology guarantees high quality sound without distortion, even at high volume. The built-in microphone supports hands-free and voice support functions such as Siri and Google Now. You can enjoy a smart life experience without hassle.
The latest Bluetooth 5.0 chip provides a maximum communication range of 30m and a super stable connection. In addition, since the "EarFun Go" is equipped with a 3.5 mm AUX input Jack, you can use the 3.5 mm AUX cable to play audio even on devices that do not support Bluetooth.
Thanks to the IPX7 waterproof protection structure, there are no problems, even if the EarFun Go is submerged in water to a depth of 1 m for up to 30 minutes. Perfect for outdoor activities such as swimming, camping and the sea!
Built-in high-capacity battery, can play continuously for up to 24 hours. It can be quickly charged in just 4 hours with the included USB Type-C cable. The "EarFun Go" is small, lightweight and comes with a hanging strap that makes it easy to carry anywhere and for only $40.
Naim Mu-so 2 speaker: best soundbar
The development of the second generation of "Mu-So" took more than three years, the new system has become more stylish, productive and functional.
Both the drivers and the amplification have been reworked. The device's power is now 450 watts. Engineers paid the maximum attention to network interfaces: installed a more powerful Wi-Fi transceiver, added support for AirPlay 2, Spotify Connect, Tidal, and Chromecast.
Also are Bluetooth, USB, analog input and HDMI ARC for connecting to the TV. Multiroom functionality is provided by Chromecast, AirPlay2, and a thoroughly redesigned native Naim app. The system itself is ready to work with content as high as 32 bit/384 kHz.
Visually, there are almost no differences from the first generation. However, the developers of Mu-So 2 significantly redesigned the device's body inside, which made it possible to add "representativeness" to the bottom. The touch panel is now better able to detect touch and is equipped with a proximity sensor, it is activated only when a hand is raised to it.
Instead of the classic black grill, you can also choose a terracotta, olive and peacock color with a deep iridescent blue-green-blue hue.
The cost of Muso2 bites and not everyone will agree to pay about $1500, although it is worth it.
Naim Mu-so Qb 2nd Generation speaker: best hi-end
"Mu-so Qb 2nd Generation" combines all the advantages of the famous predecessor, but it surpasses it in almost all key indicators. The manufacturer has seriously reworked both the software and technical part of the device: especially in this sense, the improved platform, which 25 Naim engineers have worked on for the last 3 years, is good. It provides excellent sound quality with different content sources and provides access to all current streaming services, such as Tidal and Spotify.
Updated speakers give out a maximum power of 300 Watts, full support for the multiroom option and a digital processor amplified almost 13 times, which allows you to achieve even greater accuracy when playing music of different genres. Special attention is paid to the network functionality: high-quality content streaming up to 32bit/384kHz, built-in Internet radio, enhanced Wi-Fi module. The list of interfaces for connecting also includes Bluetooth and USB. If desired, the "Mu-so Qb 2nd" can be linked to a TV and used as an external audio system.
The model received a noble steel color, redesigned for the example of the older "Mu-so Qb 2nd" replacement grill and updated controls. The cost of the model is $1000, which means that devices of this class have an extremely affordable price tag.