2015 is probably a new step in portable audio. Audio manufacturers are increasingly focusing on the growing demand, which significantly affects the range of such devices not only by price, but also by a set of features, sizes, colors and versatility. And so, let's find out what in the top in 2015 and what is worthy of our attention and wallet!
Audio Pro Addon T3: best portable speaker
Perhaps the Audio Pro engineers deliberately placed three drivers in the Addon T3, one of which is a subwoofer. This way you can get both stereo sound and good low-frequency support and save money. As a result, the sound of the T3, despite the modest size of the audio system, is characterized by confident deep bass and crystal clear tops. The reproducible frequencies were: 60-20,000 kHz.
Do not look for a passive radiator in this design, it was replaced by a bass port on the backside. There is also a USB port for charging mobile devices, which can be useful for many.
The high-capacity battery ensures long-term use of the speaker without recharging: up to 30 hours when playing at medium volume and 12 hours at maximum volume. The connection is standard via Bluetooth with any device and up to 10 meters. The T3 is available in six colors. Price is $200.
Aiwa Exos-9: best outdoor speaker
Aiwa Exos-9 is sure to interest many people, and they will not make a mistake in their choice! This is a really powerful and well-sounding speaker. The Exos-9 has five drivers: two tweeters, two mid-bass speakers, and a subwoofer. The power of the model is 100 watts, and the frequency range is 40-20,000 kHz.
On the front panel there is a volume knob and display, and on the top there is a touch control panel. The device is equipped with a 5-band graphic equalizer with four factory settings.
Exos-9 communicates with mobile devices using the Bluetooth module (there is an NFC function). In addition, there is a 3.5 mm input and a USB port for charging smartphones from the built-in Exos-9 battery.
By the way, the manufacturer claims that a charged battery will last for 10 hours of playing music. The kit includes a remote control (stored in a special compartment on the back of the speaker). The portable system from Aiwa is available for purchase for $299, which is very good for such functionality and sound.
B&O Beoplay A6: best streaming speaker
The BeoPlay A6 model has an unusual design that sets It apart from other devices. The device can be installed anywhere: on a table, floor, or wall. Users can choose a model from several options with different colors of the front grill covering using premium materials.
BeoPlay A6 is equipped with five powerful speakers, which playback frequency 35-30,500 kHz. The power of two low-frequency drivers is 2x60-watts, two high-frequency drivers are 2x30-watts, and the fifth driver is 60-watts (located at the back). As a result, the sound of BeoPlay A6 is powerful and rich.
BeoPlay A6 is perfect for streaming music, as it supports almost all interfaces like Apple AirPlay, Bluetooth or Spotify etc and even and DLNA-DMR on board. And you can transfer audio files in as MP3 or WMA, but also audiophile like FLAC, WAV, ALAC and etc.
But the cost of $1000 of this beauty with good sound and premium finish may confuse someone.
Ultimate Ears BOOM 2: best waterproof speaker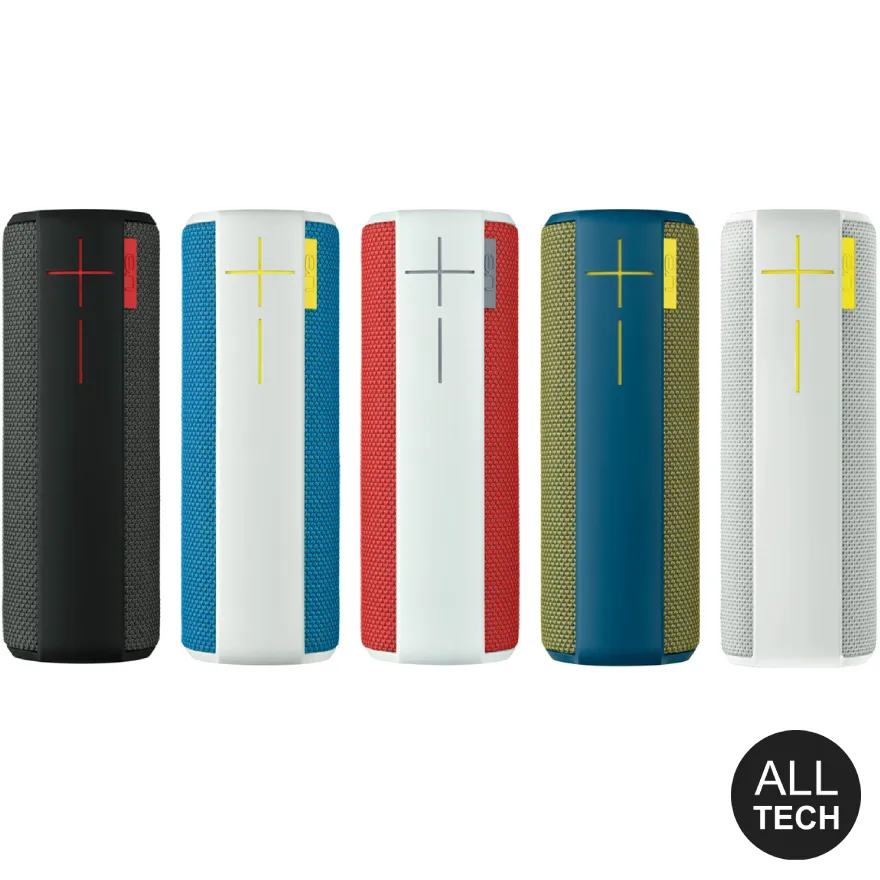 Ultimate Ears Boom 2 is a compact speaker for $120 that can be connected via Bluetooth. Its robust cylindrical body is protected from water, dirt and shock thanks to its rubberized construction. The Boom 2 is about 1.5 times the size of a soda can and is available in a variety of bright colors (for example, orange-purple and red-pink).
Boom 2 perfectly copes not only with dance, but also with classical music, as well as with soft tones of speech. The sound is clear, the speech and vocals are detailed and clear. The sound of pop music is striking, the bass is clearly distinguishable, but not overloaded. In General, Boom 2 has a strong sound, which can be even rough at some high frequencies. But even at maximum volume, you will not hear any distortion. Thanks to its cylindrical shape, this speaker distributes sound well throughout the room.
Along with the standard Bluetooth connection, the Boom 2 has a short-range connection for use with compatible devices. The attached app for iOS and Android is not only a remote control, but also an additional source of functions. For example, you can use the app to set an alarm so that you can wake up to your favorite music.
The Boom 2 is a lightweight speaker, despite its large battery. When playing music at a reasonable volume, the speaker playing 19 hours. By the way, you can count the battery charge percentage by pressing two volume buttons simultaneously. The durability and long battery life mean that this device is a great travel companion.
H/K Omni 10/20: best multi-room speakers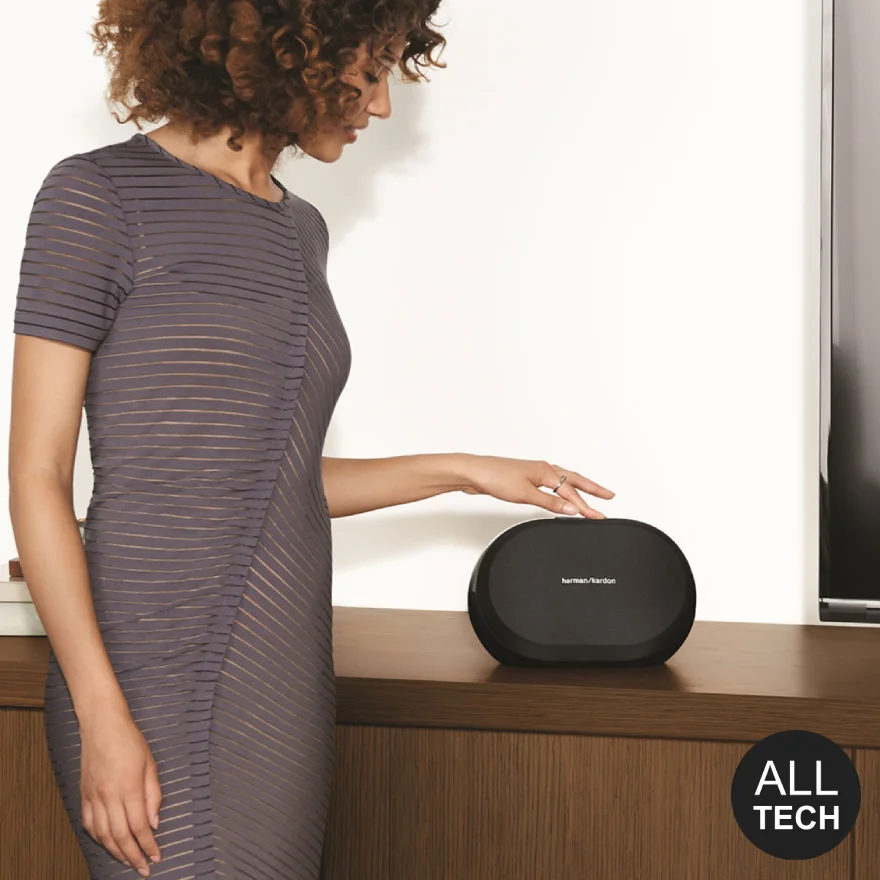 A series of Omni 10 and 20 home wireless speakers designed to create multi-room systems using a special Harman Kardon adapter for integration into the system of existing audio equipment in the home.
Omni's are equipped with Wi-Fi and Bluetooth for receiving data over a wireless network and support audio streaming up to 24 bit / 96 kHz. Each of the speakers can be installed independently for one of the zones in the house, or as part of a multi-channel system. Accordingly, from two Omni you can get a wireless stereo, and from several a home theater.
A mobile app is used to manage and configure Omni and Adapt. you can also control the system using the Central button with short taps and switch between all available tracks in all zones, and a long tap on any zone will turn on "party mode".
Omni 10 ($140), Omni 20 ($180) and Adapt components are available in black and white.
Bose SoundLink Mini II: best portable speaker
SoundLink Mini II is based on three main principles: best sound, ease of use, and quality production.
Sound clarity is provided by two-way passive radiators with two specially designed high-efficiency converters that load two stereo drivers.
You can sync with two mobile devices in one time using Bluetooth. But may save the names in memory up to 8 of the most frequently connected devices, which significantly speeds up the synchronization process.
Mini II is equipped with a battery that allows the speaker to work for up to 10 hours without recharging. The device is charged using a source with a USB port.
The Mini II can be purchased in two versions: Carbon or Pearl for $329 each. The user can additionally buy soft cases in dark red, dark blue, bright green, charcoal black, and gray for $39 each.
Riva Turbo X: best home speaker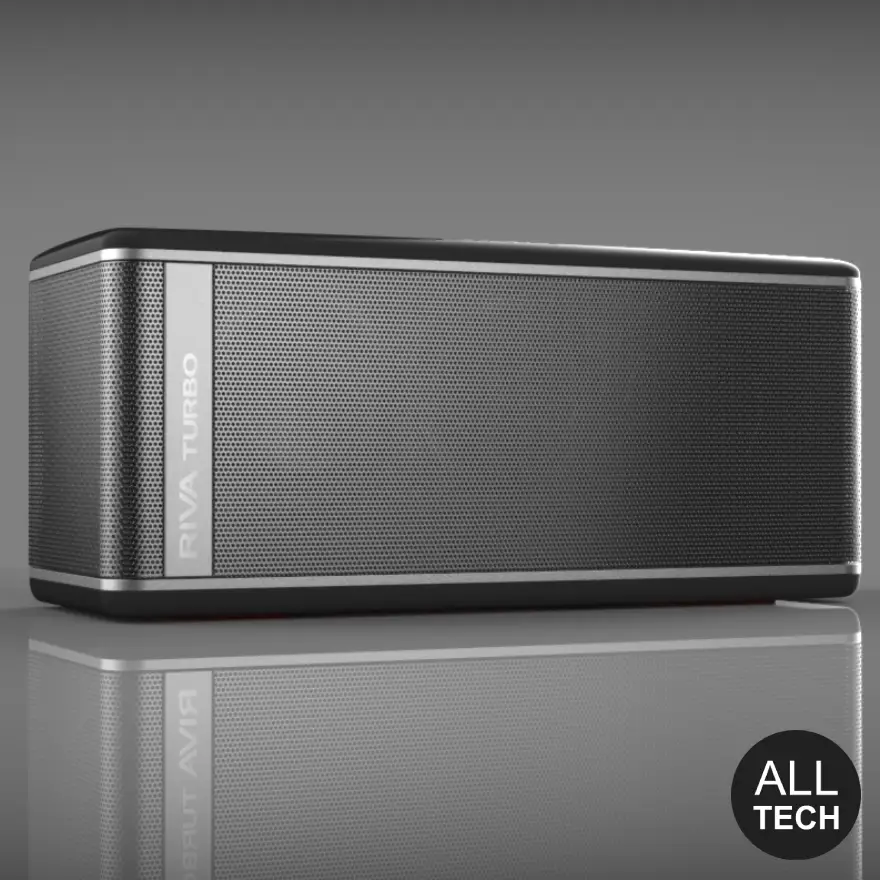 The main advantage of Turbo X lies inside, under the glossy coating. The Turbo X is based on three audio channels. Two of them are directed to the left and right, and the third channel is located in the center. For each channel, selected 60 mm speakers from the company ADX, covering the full frequency spectrum. Four passive drivers have also been added.
All this swings the amplifier with a total power of 45 watts. This power is enough to fill a large room with sound and with good sound quality. Turbo X reproduces small nuances of sound, does not "chew" medium frequencies, unlike many other compact models of acoustics. The nuances of the voice are clearly visible, and without any emphasis, the sound is not annoying even at high volume, but not devoid of color. It's nice to listen to music on it.
Turbo X is equipped with a battery that can withstand up to 26 hours of operation. There is also an option for USB charging of other devices. The Turbo X is available in white and black for $300.
Braven Balance: best waterproof speaker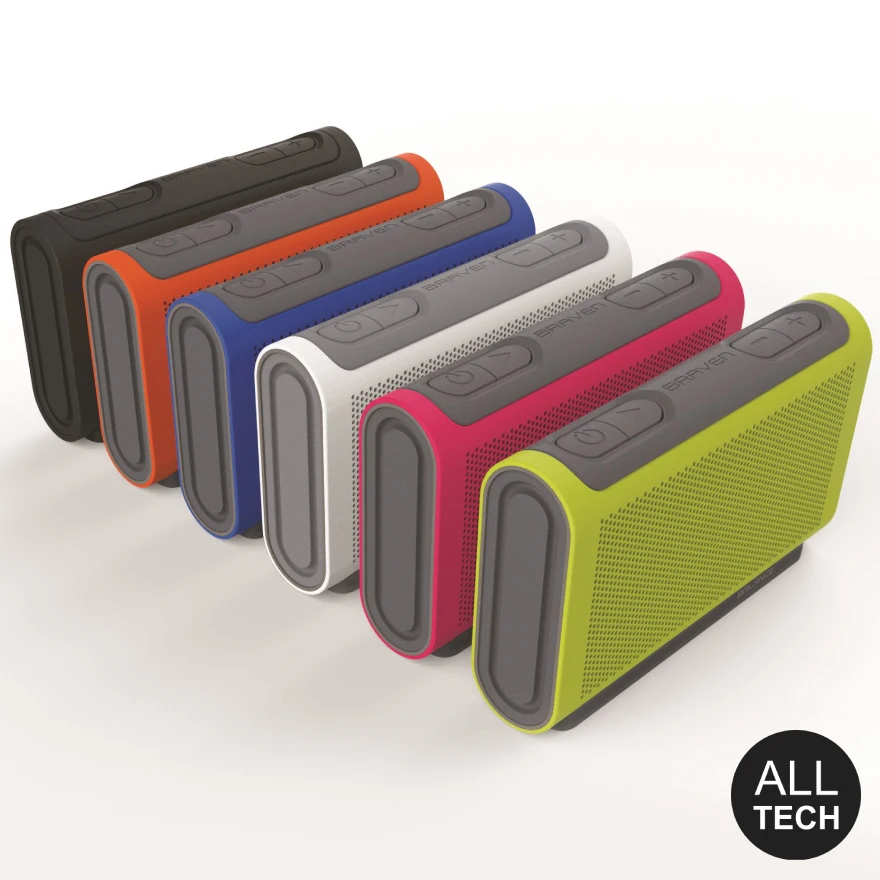 Braven Balance has a practical and stylish case made of a durable plastic case with full protection from moisture according to the IPX7 standard in five variants of bright color solutions that will definitely appeal to the teenage and youth audience. The weight of the device is 812 g, which allows you to easily transport it in any bag or backpack.
Thanks to two speakers with a total power of 20-watts, Balance is able to efficiently voice a decent radius of open space. Wireless connection to the audio source is made using an energy-efficient Bluetooth interface (up to 10 m). In addition, it is possible to receive an analog signal through the line-in connector (AUX IN).
The speaker is equipped with a battery 4000 mAh, what to provide 12-18 hours of battery life of the device and perform the function of power bank (5V, 1A), i.e. recharge other gadgets. The kit also has a proprietary charger that can quickly restore the full capacity of the battery.
The cost for any color is $50.
Audioengine B2: best home speaker
The small Audioengine B2 case is made in a modern design from an 18 mm thick MDF Board, finished with a natural wood veneer. Manual Assembly allows you to improve sound insulation to reduce resonances and distortion. The B2 is available in three finishes: American walnut, ebony or black ash on the price $200.
Audioengine uses in the B2 two wide-band speakers with Kevlar diffusers and two twitters with a silk dome and neodymium magnets. This fully developed AudioEngine model uses a solid-state stereo amplifier operating in AB mode with an output power of 60 watts.
This compact music center includes a 24-bit PCM5102A DAC from Texas Instruments. Thanks to Bluetooth 4.0 support (aptX, A2DP, AVRCP), B2 can receive music stored on your computer and other devices.
On the back of the B2, there is a volume control, power button, Bluetooth antenna and a 3.5 mm mini-Jack line-in audio input. Finally, in the spirit of the times and for energy-saving purposes, B2 has an "automatic sleep" mode, which it switches to at the end of the listening session.
Bose SoundLink Color II: best waterproof speaker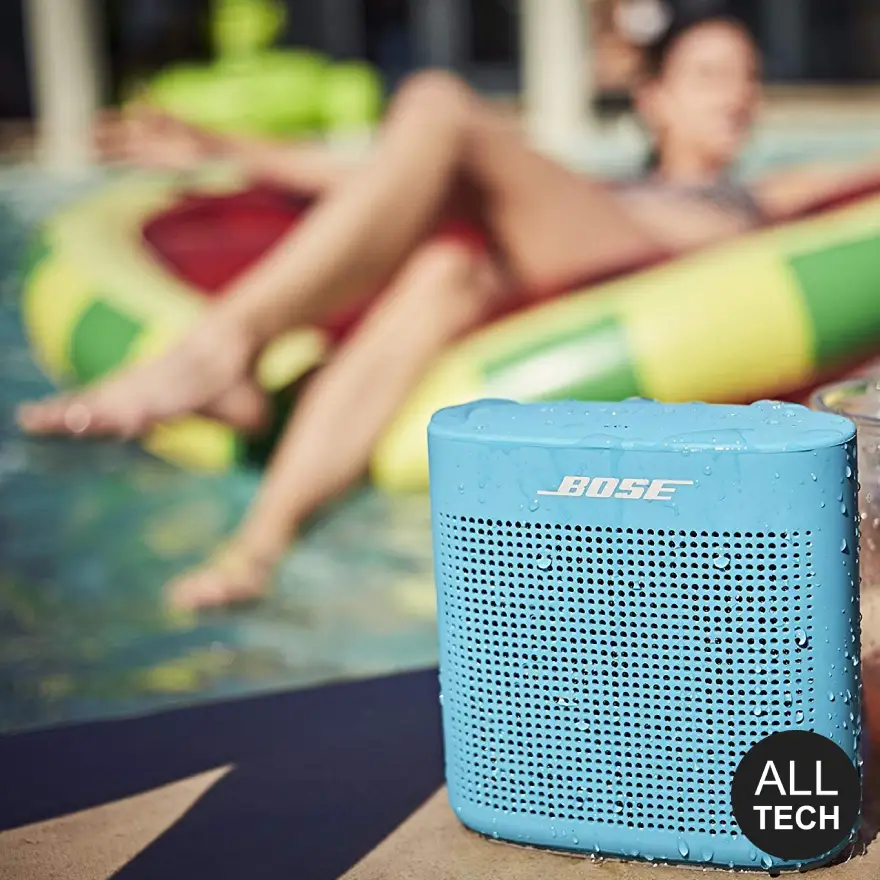 SoundLink Color II is positioned by the manufacturer as a mid-price model ($150) designed for walking, picnics, Hiking and traveling. It has a small rubberized case weighing 544 g, which provides reliable protection from rain and water splashes. It is distinguished by the use of tactile pleasant coverage with the soft-touch effect, the presence of a built-in microphone for hands-free communication and excellent quality of music playback.
In the compact size, the Color II speaker system is equipped with a whole system of active and passive sound emitters with a total power of 8 watts, which are capable of reproducing a big frequency range, including quite noticeable bass.
To pair with a smartphone, an energy-efficient Bluetooth wireless Protocol is used, which provides a stable connection at a distance of up to 10 meters.
Color II is equipped with a built-in capacious battery that can maintain the device's performance for 9 hours.