2019 was a great year for consumers of portable wireless speakers. During this year, a very wide variety of models appeared on the market, at different prices and various form factors. The year 2020 has become even more intense in portable audio. All this happened, primarily thanks to Chinese companies. Perhaps today they are the kings of Bluetooth speakers, which squeezed out of the market manufacturers of other countries, thanks to a decent level of product quality and low price! Or at least in our recommendations, almost all the suggested options are products from Chinese engineers with a price under 50 and 100 dollars. So let's get down to our really interesting review that will help you choose the best wireless speakers in the 2020 year.
Riptunes Elite: best home speaker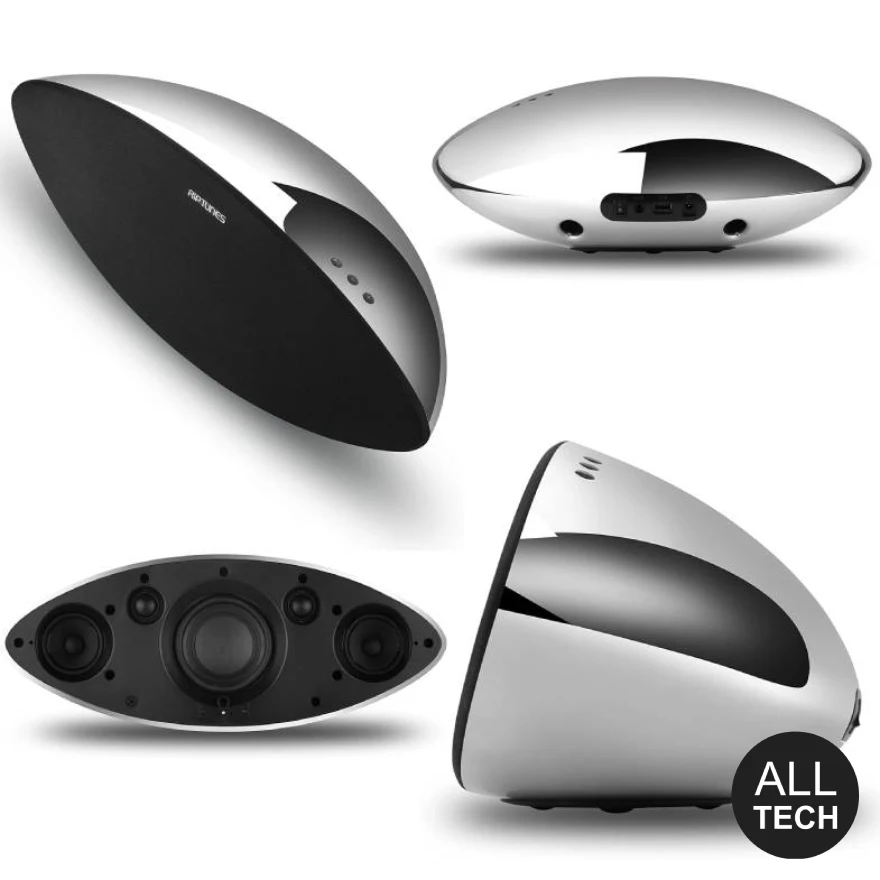 For sure, most of you shuddered with delight when you saw this space design from Riptunes in the photo! Perhaps this is the nominee for the best design in 2020 among portable wireless speakers and this pedestal will remain behind it for a long time!
This audio accessory will undoubtedly become a decoration of your interior and will cause amazement in many. You may have already guessed that this "audio drop" is intended only for the home and is not equipped with a battery.
This form of design, not only looks good, it also has a positive effect on the sound. Such rounded boxes reduce standing waves and have the smoothest frequency response among other types of cases.
In addition to the correct shape, this "drop" is equipped with five speakers. In the center there is one subwoofer, two mid-basses and high-frequency speakers on the edges, which certainly gives a well-detailed sound. There are no passive radiators here, instead of them, there are two bass ports on the back side, so do not expect a very deep bass.
If you like this solution from Riptunes, hurry up, while the price of this device is $80 on eBay and $100 on Amazon. It is obvious that now the price is lowered specifically for the promotion of the product and will soon be higher!
Ultimate Ears Hyperboom: best party speaker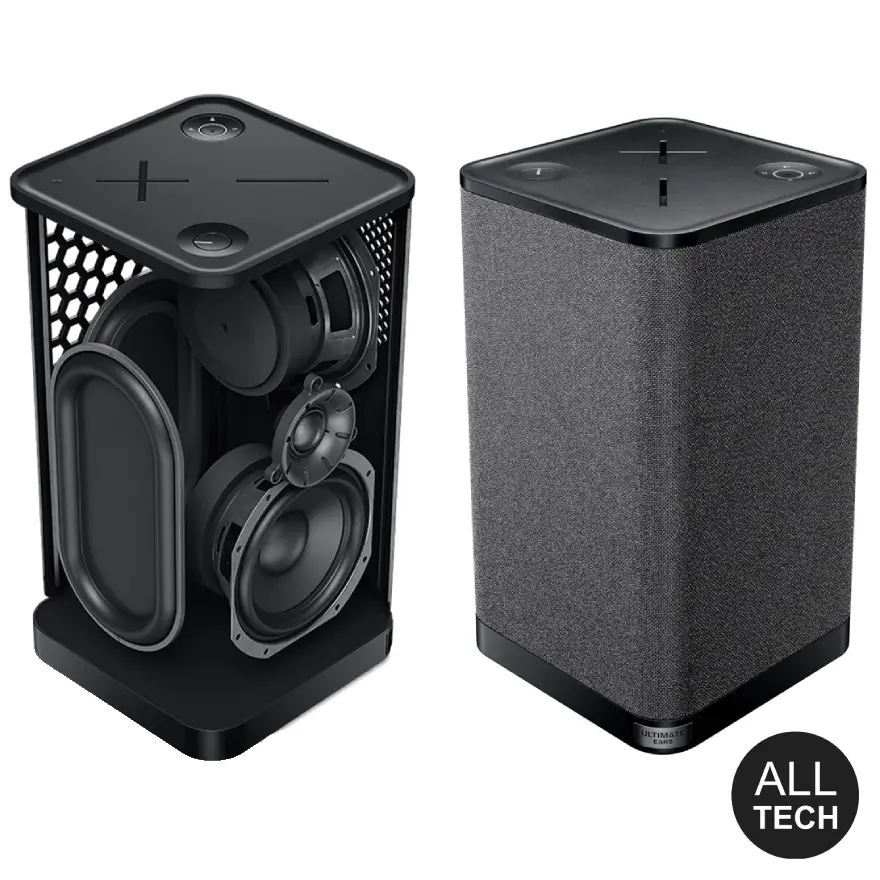 The Hyperboom, model from Ultimate Ears is specially designed for parties. The developers really took into account all the necessary nuances in the design and Ultimate Ears, and perhaps the result was simply excellent! The main thing is not to be put off by the price of $399.99.
First, it's power! In a rectangular case, on all four sides there are two 114 mm mid-bass speakers, two passive radiators and two high-frequency ones. This design of the speakers location allows you to effectively voice the area where your party is taking place. Well, if you do not have enough power, the design allows you to connect an additional second Hyperboom, so that they work in pairs. There is also an Adaptive equalizer that reads space and automatically adjusts for optimal sound.
Hyperboom is portable. It has a battery with a working mode of up to 24 hours. There is also a belt for easy transportation of this not small friend to parties.
In addition to Bluetooth, which has a record range of up to 45 meters, Hyperboom has a digital optical input and a 3.5 mini Jack. There is protection from the environment IPX4.
Denon Home 350: best multi-room speaker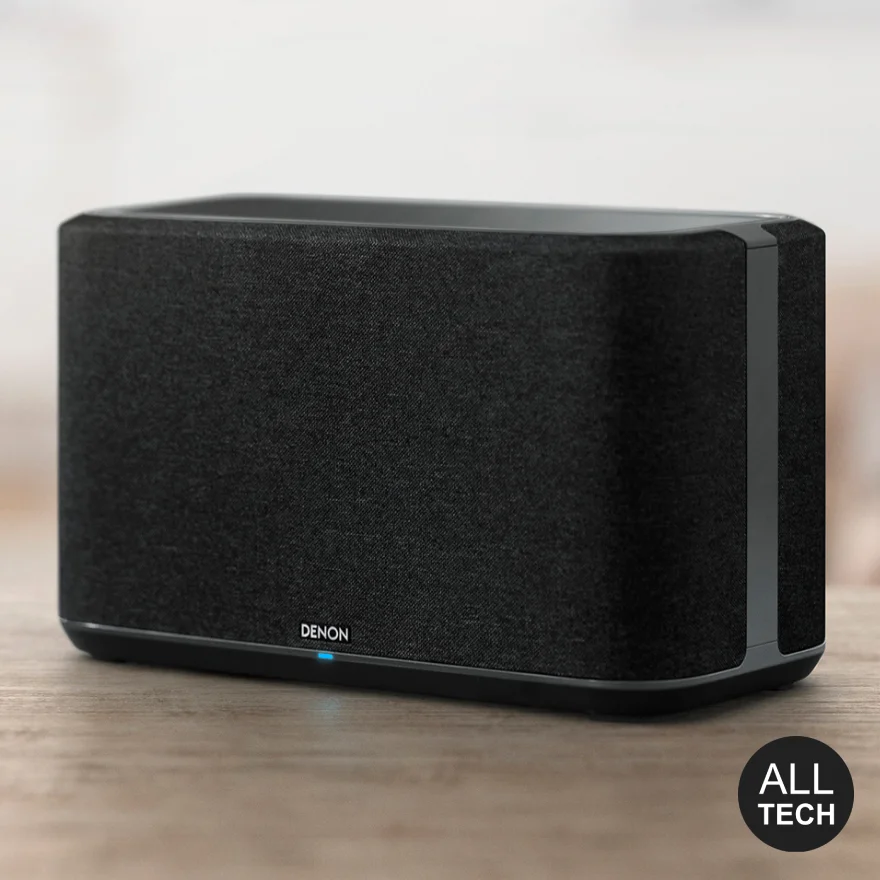 At the beginning of 2020, Denon updated its line of wireless home speakers, releasing three models under the Home series: 150, 250 and 350. All models have a special filling focused on listening to music in Hi-Res quality from most popular streaming services like Spotify, Apple Music etc, using not only Bluetooth, but also Wi-Fi, AirPlay 2, or USB and 3.5 mm aux input.
The Home 350, the oldest model, is significantly different in sound from its younger models and for this reason it is worth paying attention to if you are looking for an "omnivorous station wagon" for a home that sounds good. The model is equipped with six speakers: two tweeters, two medium basses, one subwoofer in the center of the front and one bass passive emitter in the back. The sound of the Home 350 is quite adult, full-fledged. It is even better to create a stereo pair of two Home 350 using the proprietary HEOS application or add a DSW-1H wireless subwoofer for more powerful bass. There are also multi-room options.
The entire Home series does not have a built-in battery and only works from an outlet. The cost of the older model is $699.
Tronsmart Element T6 Max: best bass speaker
Already well-established in the market, the manufacturer of portable audio Tronsmart, this year pleased with an unusual novelty. This is an acoustic that really reproduces sound in 360 degrees!
Guess how many speakers the developers have set in Element T6 Max at a price of $99!? Fifteen! Five of them are active. This is a subwoofer, which is located in a cylindrical body so that the sound is scattered in all directions and it is assisted by four more passive bass radiators that sound all four sides of the world. And four active mid-bass speakers, between which are four more bass passive radiators. If you don't have enough low frequencies, you can amplify them with special SoundPulse technology. Or additionally connect the second cylinder Element T6 Max in stereo mode.
The Element T6 Max also has a connection to Siri, a rechargeable battery for up to 20 hours without charging, IPX5 protection. And touch control, which for this price is a luxury!
Asimom Jewel Pro: best home speaker
The Jewel Pro model from Asimom is a direct competitor to HK Onyx Studio 4, but not quite. Despite the design similarities, the Jewel Pro has its own hardware and sound differences. In addition, this device is more compact and the price is slightly lower than Onyx Studio 4. The price in the range of $60-70. All these features are the main reason for getting of Jewel Pro, into our rating of Bluetooth speakers.
In Jewel Pro, two mid-bass speakers are installed on the front panel, which are responsible for the upper bass, middle and high frequencies in stereo mode. In the center is an active subwoofer and a passive bass radiator. The sounds Jewel Pro, without distortion and is very complete for its cost, but still not as convincing as Onyx Studio 4.
Jewel Pro can be paired second device to improve with stereo sound and increase overall volume using TWS technology. In addition to wireless connection, you can use a TF card or AUX-IN for listening.
But Jewel Pro is not equipped with a battery and works only from the power supply. Therefore, the device will always be tied to an electrical outlet.
Rombica Mysound Rock: best home speaker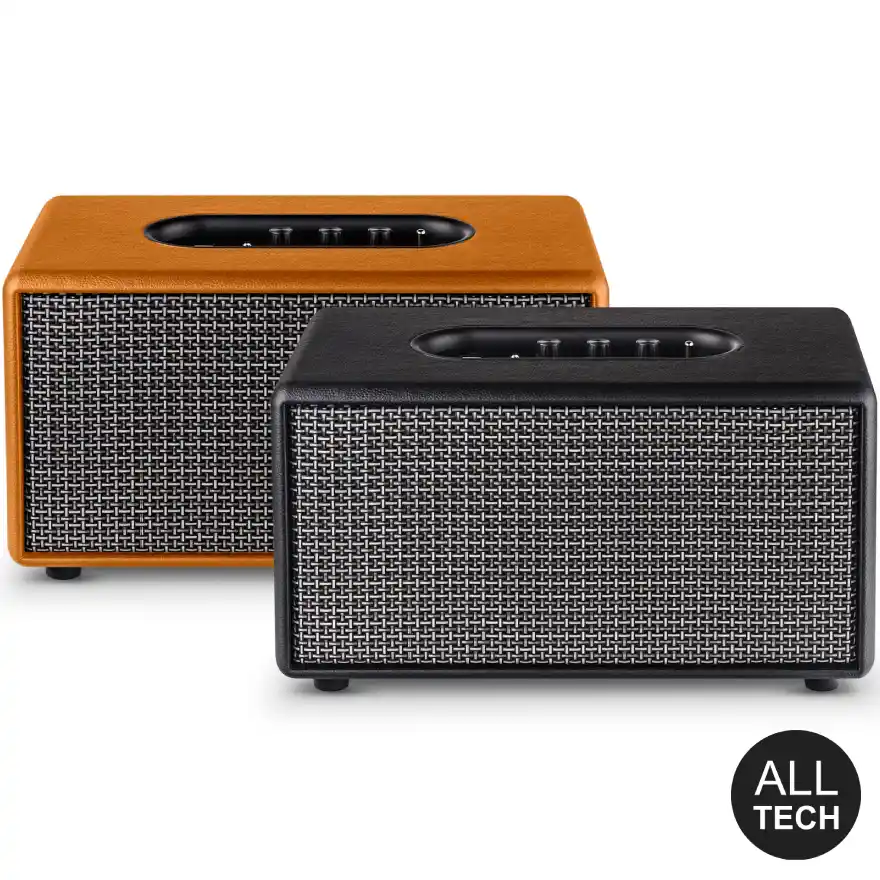 The sound of Mysound Rock from Rombica, of course, is not directed specifically for listening to rock music. On the contrary, the developers made sure that the acoustics of Mysound Rock played all genres of music quite well: rock, trance or instrumental music and R'n'b. Specifically for this purpose, a two-band equalizer was installed so that you can adjust the sound to yourself, to your favorite tunes. And the design itself also tells us that it is made universal especially for music lovers.
On back side of the wooden case, there are two bass ports, in front of the two-band stereo acoustics with a total power of 80 watts. There is also support for lossless audio and playback from USB media. Thanks to these characteristics, Mysound Rock can be tuned to a high-quality and powerful sound that will literally fill your entire room.
So what is the name Mysound Rock associated with?! Everything lies in the design, it's a retro style of 60-70 years that a lot of people like.  Moreover, the build quality and finish of high-quality eco-leather (have two colors) Mysound Rock is at a high level!
Aomais GO: best outdoor speaker
Having made a lot of noise over the past three years, the GO model from Aomais has become even better after being updated in 2020!
Despite the usual audio design: two active drivers on the front side and two passive radiators in the front and back, the Aomais GO sounds loud (up to 80W) and evokes positive emotions even for sound-demanding users. Of course, AOMAIS GO, sounds good considering its cost, only $60.
The developers have retained from the previous version IPX7 environmental protection, the ability to work in a stereo pair and a microphone port. But by changing the playtime, now new version can play music for 10 hours more, which is 40 hours and can be used as a Power Bank. Bluetooth has also been updated to version 5.0.
It is clear that with such data, GO is one of the best options for an active life. And the design of the Aomais GO with a convenient handle for carrying, we are directly hinted at this. By the way, there are two colors of the model: black, blue and red.
HK Onyx Studio 6: best outdoor speaker
The new version Onyx Studio of the mono speaker is created for listening to music both at home and outside.
Elegant case with fabric trim, available in a variety of colors. There is also a special strong and reliable aluminum handle for easy carrying. Version 6, received also IPX7 protection from water and now there is no bad weather for a party or picnic, because the case are not afraid of rain, splashes or even a short dip in the water.
Built-in battery, designed for 8 hours of continuous playback at full power. The 50 watts amplifier combined with a 120mm low-frequency speaker, a 25mm tweeter and a passive bass radiator can easily sound a room up to 30-40 square meters with a guarantee of high-quality playback of your favorite songs, rich bass and detailed study of vocal and instrumental parts. Dual Sound technology allows you to pair two speakers and get twice as loud sound.
The only disadvantage of the model is that it is connected only via Bluetooth and the price for such happiness is not low, about $300.
Tribit StormBox Micro: best portable speaker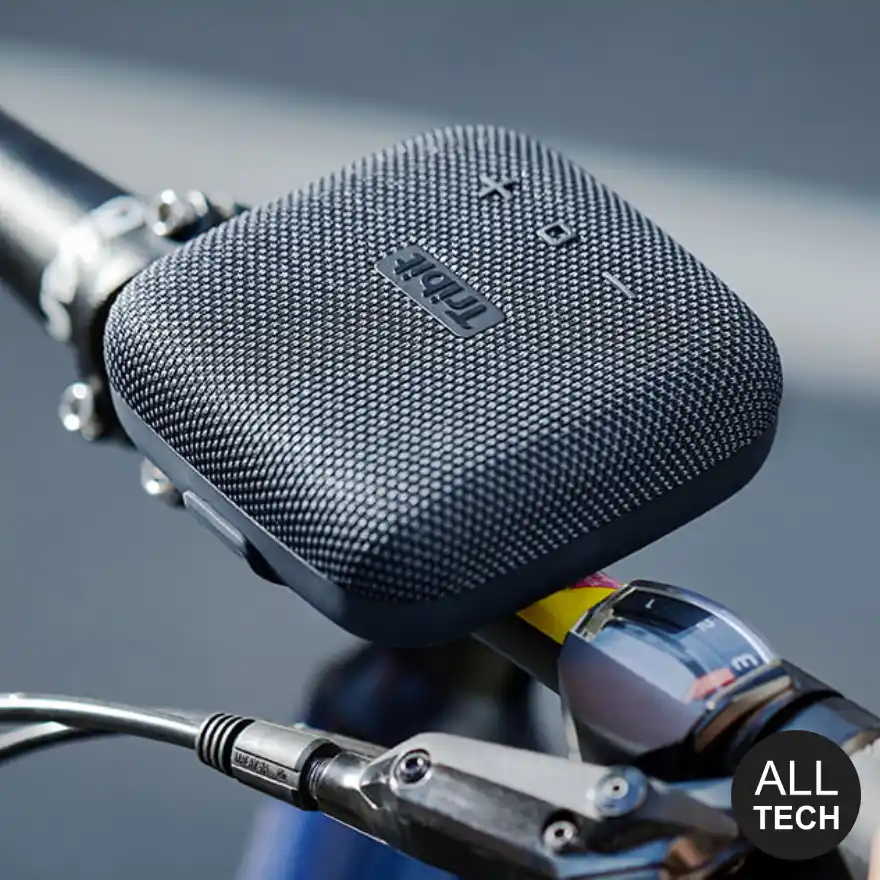 A compact solution called StormBox Micro from Tribit, much better than Jbl Clip 3 at the same price ($45-56). And anyone who needs the most compact and durable with IPX6 audio friend that fits in the palm of your hand, should definitely consider StormBox Micro.
StormBox Micro plays in mono mode via Bluetooth 5.0 in the range of 70Hz-20kHz. There is only one active driver, but two passive radiators, and the amplification is responsible for the module built on the Texas Instrument. As a result, StormBox Micro has a very powerful sound for its size, as much as 9 watts, and the volume in decibels reaches more than 86dB, which is almost two decibels more than Jbl Clip 3. At the same time, the sound quality is better than that of similar competitors. It is also possible to build a stereo using TWS.
The 2600mAh battery allows you to listen for up to 8 hours, but at a moderate volume. At full volume, the charge lasts a little more than three hours.
Braun Audio LE: best streaming speakers
Braun Audio introduced three models of various sizes to the wireless audio market: LE 01, LE 02, and LE 03. Modern models are the predecessors of the LE 1 model from the designer Dieter Rams, which was released in 1959, and they are very similar in design, but of course have a modern filling.
The updated version has a DSP and custom-made aluminum speakers. The amplifiers operate in class D. Wireless audio transmission is via Wi-Fi or Bluetooth v4.2. Possible to connect directly via the Ethernet port. LE supports 96kHz/24-bit streaming via Airplay 2 or Chromecast services via a special iOS or Android app. All models can work in paired stereo mode. And for example, the smallest LE 03 model, which plays mono in contrast to flagship models, can be used as a shelf speaker or as computer monitors.
Design Braun LE, like to many. Such solutions will perfectly fit into the interior. Braun also offers additional stands for best placement in the house. Therefore, perhaps the main buyers of the LE series are connoisseurs of aesthetics, minimalism and stylish interior.
LE series made from aluminum and available in white and black case. The price for the Junior model LE 03 is $399, LE 02 $900 and the senior model LE 01 $1300.
Xiaomi Mi Mini: best outdoor speaker
And so guys, look at the "Clip 3" from JBL and this model from Xiaomi. They are very similar. They have a single size and sound quality. Xiaomi is only slightly inferior in sound power (81db VS 84db). And now look at the price of both devices! The "Clip 3" costs about $60-70, but Xiaomi only wants $14 for this device! Great, right?!
As you can see in the photo, this mini speaker is made of high-quality materials that are pleasant to the touch. Here is also IP55 protection. You can connect to other devices via Bluetooth 5.0, however, stereo mode is also available, paired with a second speaker. There are no other options, only charging via type-C is hidden behind the cover.
The battery here is set to 2.000 mAh. Therefore, you can listen to the singing of this baby from Xiaomi for up to 10 hours, which is enough for short trips, outdoor recreation or sports.
It is not yet possible to buy the device in the US and you can only order it from stores in China, while the price will be slightly higher than the recommended one, about $18-25 with free shipping.