In 2016, portable audio manufacturers made a big step forward compared to last year. And this year there are many interesting models in our review of the top best Bluetooth speakers, each of which is unique and designed for different occasions and budgets.
B&O Beoplay A1: best outdoor speaker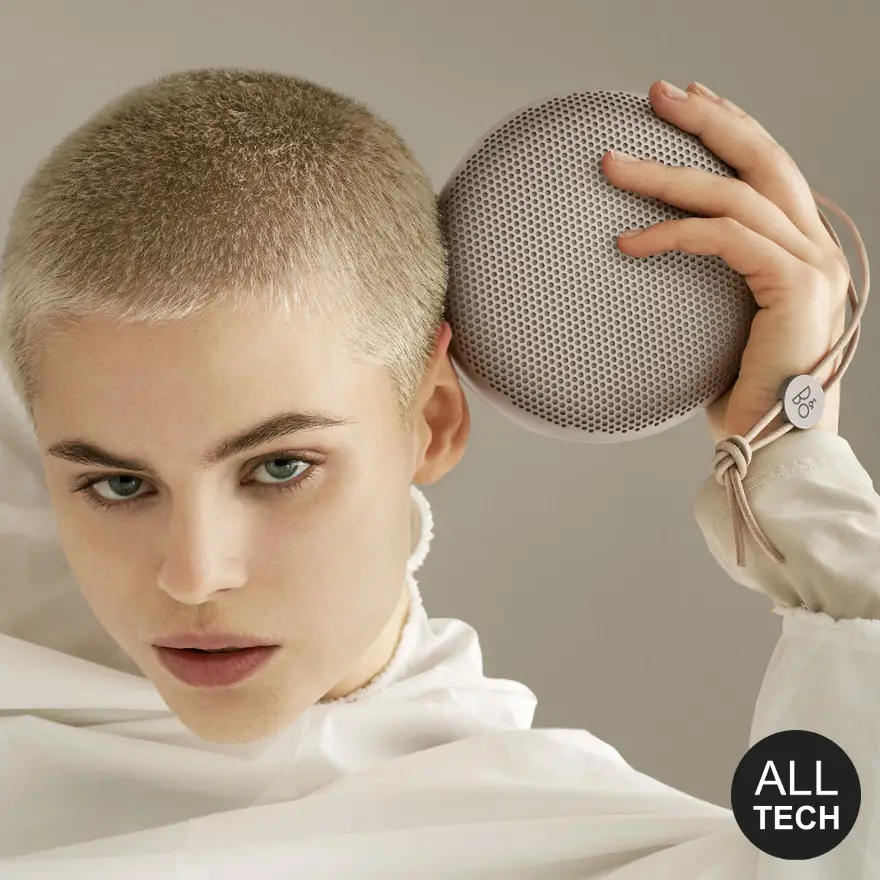 The Beoplay A1 is designed to be with you at classes on the street, in a bag, when you ride a bike, on a picnic... In General, everywhere and everywhere, a personal audio device. This concept was practiced in Jawbone once, but there was still no way to find the right size, then the speaker turned out to be small, then very large, the average version for some reason quickly disappeared from sale. Beoplay A1 does not have such problems, the size here fully corresponds to the content. You won't put it in your pocket, it's too big, but it will fit easily in a small bag.
The claimed frequency response is 60Hz-24kHz. Tweeter and a low-frequency receiver are installed inside the small case, both work with class D amplifiers, the claimed power is 140 Watt. The small speaker is very loud! Of course, here you can find fault with the fact that the middle is somehow lost, but in fact you do not want to do this, but there are decent low frequencies! At home, A1 is also quite possible to listen to, moreover, for many it will be the only speaker for all occasions, why not?
Beoplay A1 can work in stereo mode with a second speaker and also has a very long battery life (24 hours). The cost of this perfection is $250.
Bang & Olufsen also has a similar model Beoplay P2, which fits in a pocket, but does not have the same powerful battery. But still, it is worth looking at it, especially since Beoplay P2 is a little cheaper.
Minirig 2 with subwoofer: best sounding speakers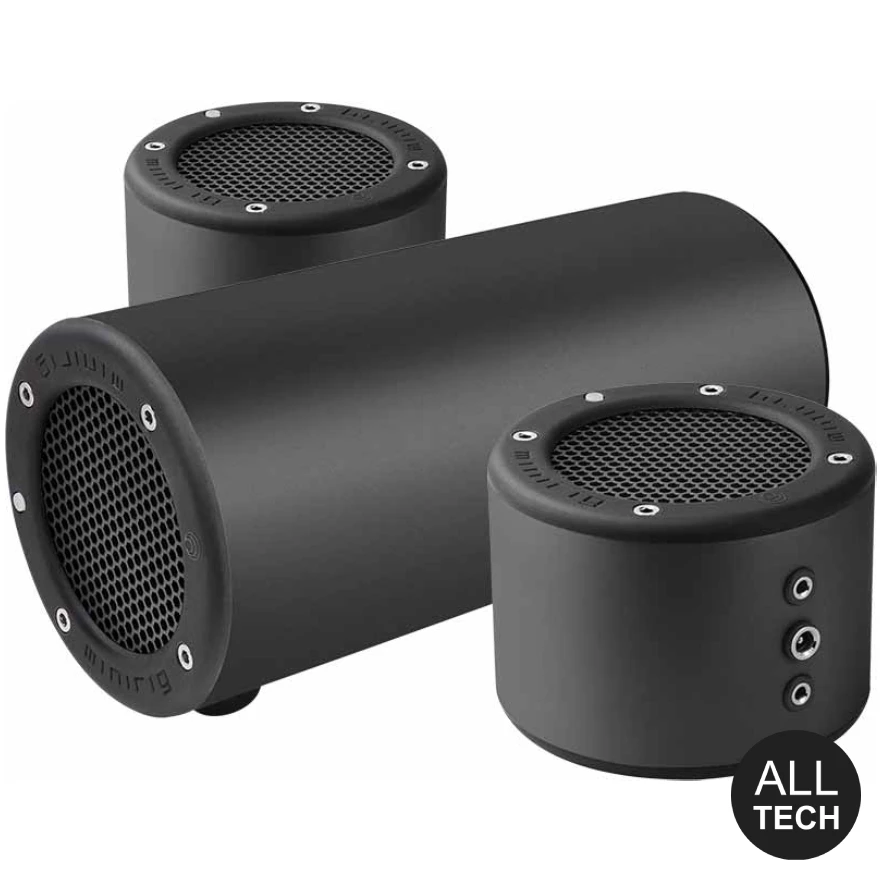 The series of acoustic models from Minirig is presented in three types. The smallest model is called a Mini, a little larger called like Minirig 2 and as additional have also subwoofer. Each model can work separately in mono mode or together in stereo. Or you can build a triphonic 2.1 system.
Speakers are not cheap. Only for the Minirig Mini will have to part with $150, and the construction of the triphonic will cost about $500. But in General, the price is justified.
The compact Mini rig Mini plays very powerfully! At maximum volume, this baby can make furniture rattle. And the power in decibels can reach 101dB. Of course, in the case of working as a pair of subwoofer, you can already knock angry neighbors. But the sound is not just loud, it is also high-quality.
Solution from Minirig impresses not only with its powerful sound, but also with a battery that lasts up to 80 hours of playing music or testing the patience of your neighbors. By the way, the assembly made in Britain, and perhaps this is precisely what affected the price.
DALI Katch: best portable speaker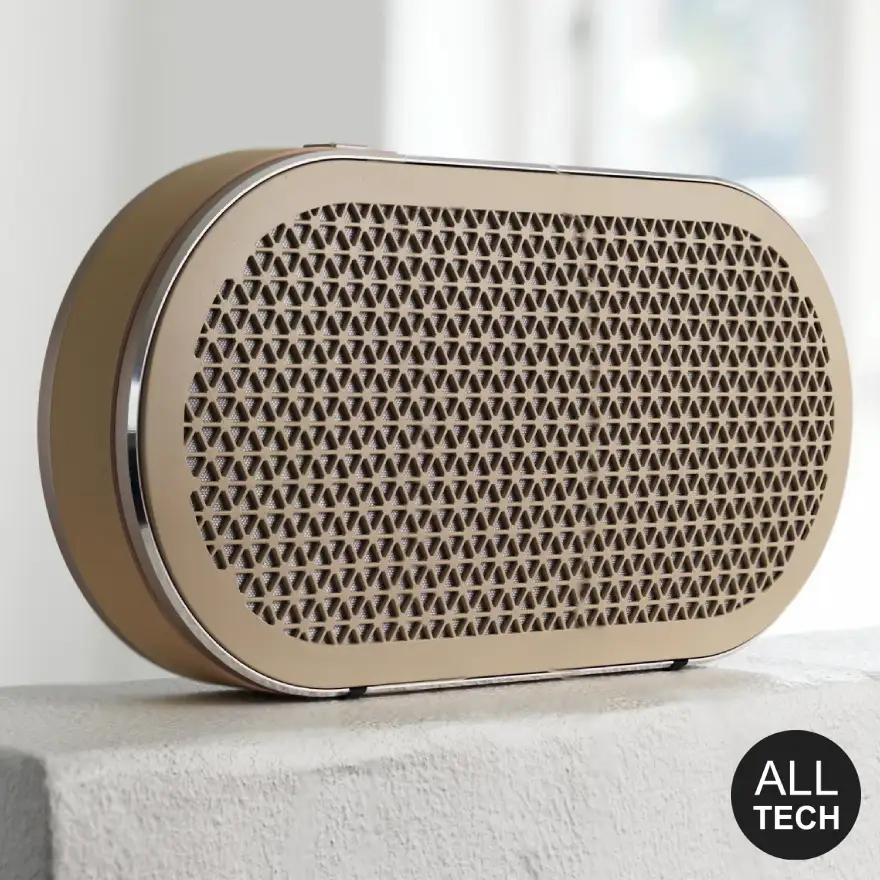 Compact Catch from DALI, is able to restore your faith in Hi-FI sound in a compact aluminum housing in which two-way speakers with bass radiators are located on both sides.
The sound of Catch, is large-scale with a clear monitor feed. The average frequencies are transparent without signs of frequency response fracture. This is a rare quality even among cabinet speakers. And in compact technology is almost impossible. Katch plays in the range of 49Hz-23kHz and can rumble despite its small dimensions. The power of class D amplifiers is 2x25 watts, which is also striking at such sizes. And the total sound pressure reaches up to 95dB. You can also create a stereo pair.
In general, Catch is a compact device with a really decent sound, nice design and a good level of battery life (24 hours). Three color options for the speaker are available. But Catch is really intended for connoisseurs who are willing to pay $500.
JBL Flip 3: best waterproof speaker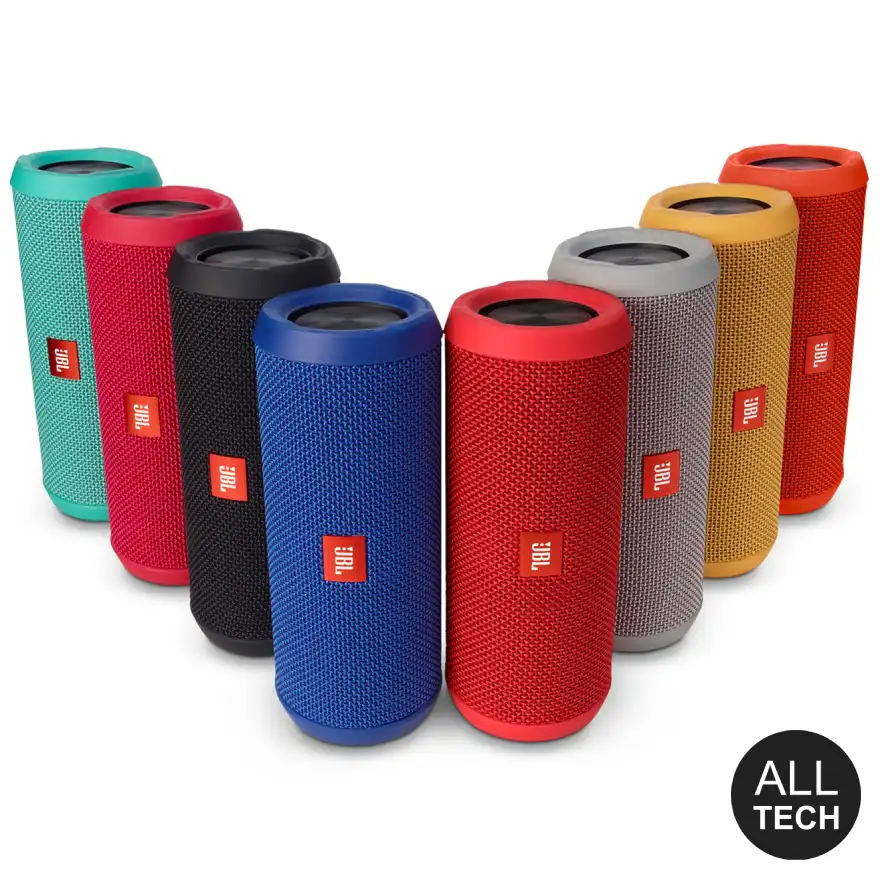 The first Flip 3 were quite ordinary speakers, but Jbl Flip 3 is a small holiday: the design has completely changed, there is water protection, a speakerphone... And there have two passive bass radiators, as in Charge!
The speaker is very nice to carry in your hand and on your hand (on a strap), it fits comfortably in a Cup holder on a Bicycle, which is undoubtedly a huge plus. The Flip 3 can stand vertically or lie on the table.
Thanks to the protection from splashes, you can not be afraid if the Flip 3 gets caught in the rain, you can wash the speaker underwater if you suddenly dirty the part with a cloth.
Of course, we are primarily concerned with the sound quality of Flip 3, not its design. The sound is loud enough for such a small speaker, rich, juicy, voluminous. You can make a bundle of two JBL that are supported in the JBL Connect app.
The Flip 3 has a 3000 mAh battery, which is enough for 2-3 days of moderate use at full volume. This is a decent result among competitors, but a record.
Flip 3 is available in seven colors. The cost is $80.
Cambridge Audio Yoyo: best home speakers
Cambridge Audio finally joined the club of "serious companies that produce frivolous wireless speakers" and introduced the Yoyo line of Bluetooth speakers.
Frivolity lies not in the sound, but in the colors: the speakers of three sizes Yoyo are presented in addition to the standard fifty shades of gray in several versions of blue (from green-turquoise to ink). The Yoyo were trimmed by the British textile company Marton Mills, specially for Cambridge Audio who developed an acoustically transparent fabric that almost completely covers the speakers except for the upper (there are touch control buttons on it) and the lower edges.
All three speakers feature high-quality amplifiers, along with a DSP of Cambridge Audio's own design. All models player the music in a realistic way, adding nothing to the original recording and reducing nothing from it.
The older Yoyo L, is an all-in-one system with support for Google Cast, Internet radio and Bluetooth connectivity. It is not portable: it rather takes the place of a media center, and the presence of an HDMI ARC connector means that it can be connected to a TV.
The price for younger Yoyo S is $150, for the stereo pair Yoyo M $300 pounds, and the media center Yoyo L $350.
Vifa Oslo Compact: best home speaker
This small wireless speaker is equipped with a wide carrying handle. Moreover, the handle is necessary for mobility, since the built-in battery allows you to listen to Oslo for up to 10 hours at a moderate volume.
The device is connected to the devices via Bluetooth 4.0 with aptX support or a cable with a 3.5mm plug. Two 50mm wideband drivers, a pair of 65mm woofers and two passive emitters are responsible for the sound.
This device powerfully, convincingly and crystal clear reproduces music at frequencies from 55Hz to 18kHz. But it and looks elegant and can fit into any interior.
The colors of textiles that can be used to make Oslo are very different, and there are six of them in total. Due to the aluminum body, the weight of the device is 2.4 kg. The front panel, covered with fabric, has two hidden playback control buttons. The cost corresponds to the quality level, $550.
HK Go + Play Mini: best party speaker
Go + Play Mini is a sleek design in white or black that looks very stylish. The steel handle and fabric cover on the grill will add style to the interior of the house.
The sound is produced by two 20mm high-frequency speakers called Ridge and two 90mm Atlas low-frequency speakers. The total power reaches 50 watts, so the maximum volume level is impressive. As the volume increases, the sound remains clear and extraneous noises do not appear. Even at maximum, the sound remains clear. It is difficult to determine which genres the speaker is best suited for: here R'n'b sounds nice, and Lemmy's raucous vocals stand out perfectly against The background of motörhead's farcical songs, and classic compositions are pleasing in their purity. Even hard electronica in the spirit of Noisia and Black Sun Empire sounds great.Despite the Mini prefix, the speaker remains quite large and heavy. This is also a plus: it does not bounce on the table and does not vibrate from its own bass.
The built-in capacious battery provides up to 8 hours of battery life.You can use USB to charge any devices. Micro USB is used as a service interface, and it does not charge the battery. Although the ports are protected by a rubberized cover, the Go + Play Mini does not provide protection from water and dirt, so it is definitely not worth taking it with you to the beach or pool. Cost Go + Play Mini $350
Anker Soundcore: best portable speaker
The cost of $40, SoundCore gives out in principle a good sound for your money. This is compact speaker is able to play quite "complex" musical compositions where many instruments are involved, even at high frequencies, and copes with this well. However, this, apparently, is the limit, if we talk about the highest frequencies, then it noticeably fails.
However, in comparison with the 18-dollar speaker AmazonBasics, SoundCore copes much better. This indicates not so much the difference in the cost of both products, but in the hardware component that was embodied in SoundCore, although there are almost no details about it.
But the most powerful part of the Bluetooth speaker SoundCore is its more than capacious battery, designed to play music for up to 24 hours continuously! Provided that the music is played at an average sound. This is a very impressive result, since so far few manufacturers of such devices have managed to implement such a result.
JBL Charge 3: best waterproof speaker
Perhaps the third model is the most beautiful. Large Charge 3 inscription on the back, the case is sewn in a pleasant-to-touch fabric. Convex convenient buttons, neat lighting exactly where you need it, translucent inserts at the ends and bottom. The fabric allows you not to slip your fingers, even if the speaker is only made of water, the stands securely hold the device in place, you can put it on the end and on the bottom stand. Charge 3 can be carried in a small bag or backpack, easily fixed on a Bicycle, take to the beach, Park, or sports field. The Charge 3 weighs 800 grams.
Charge 3 has IPX7 protection, which allows you to dive for 30 minutes, so rain, even heavy, or water drops will not have a serious impact on the device.
Charge 3 is equipped with two speakers of 50mm, a total Power of 20 Watt. There are also two passive radiators. Plays Charge 3 loudly and powerfully, there are no obvious failures. It is not bad to listen to the speaker at work or at home.
Charge 3 is able to work for 20 hours of playback, there is a complete orange power supply. The battery capacity is 6000 mAh, which is really a lot for a speaker. The cost for this decision is not high, $150.
Vifa Helsinki: best sounding speaker
Helsinki looks like a lady's purse and is advertised as a women's accessory. This may have been originally intended by the developers, but in real life, the design completely contradicts the content.
First, Helsinki though not large speaker, but it weighs 1.5 kg, and this is one of the heaviest portable models and it is not so convenient to carry it. And secondly, the sound quality is very high, which may surprise even audiophiles.
Device gives a great and open sound that belies its small size. Usually, compact speakers do not the play depth bass, but with Helsinki you will hear an open clear sound with such a deep bass that not all analogs can give. At high frequencies, the sound may be harsh, but this does not interfere with listening. Connecting via Bluetooth is very simple. You don't even need a special app, which is also very easy to use and has a user-friendly interface.
Vifa states that Helsinki will work for about 8 hours. This speaker is more suitable for picnics in the Park than for real adventures and travel. Well, the price of $450, rather justified by the design, rather than outstanding performance and functionality.
Archeer A320: best home speaker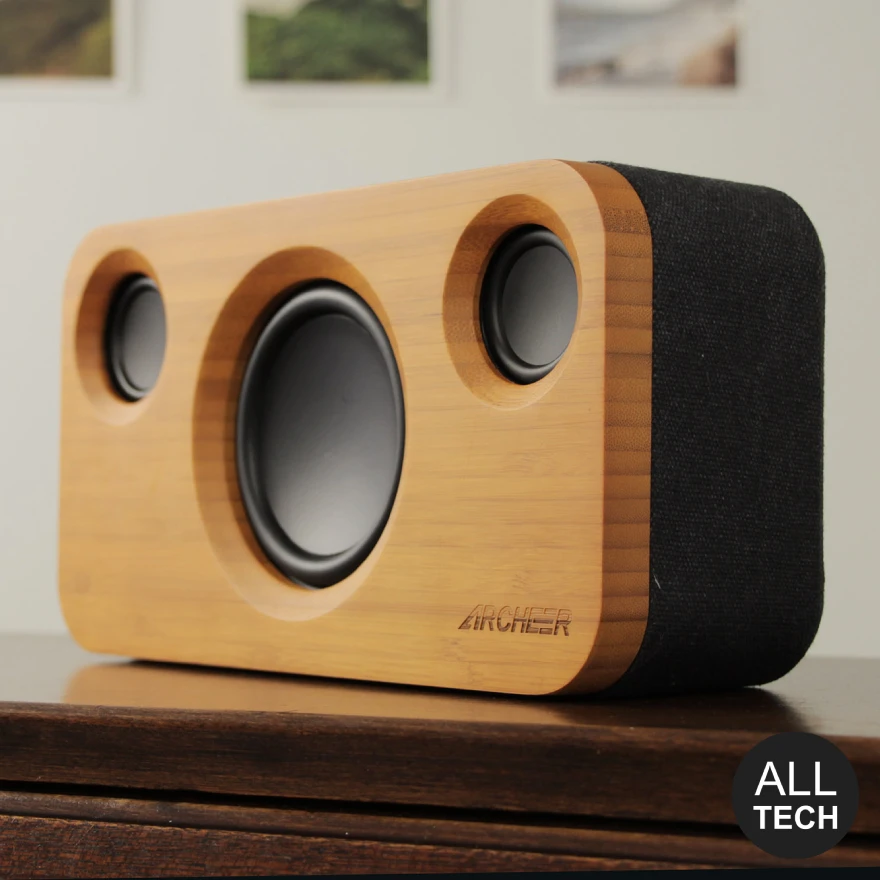 For several years in a row, many people choose the Archer A320 primarily because of its design and low price ($40-50). In reality, this gadget with a natural bamboo front and back panel looks much better than in the photo and will easily fit into any interior. Its other four sides are finished with decorative fabric, which is very well combined with bamboo panels.
This design also has a disadvantage: bamboo can react to humidity and deform. But the developers were initially focused on creating acoustics for home use, as indicated in the product description. Although mobility is not excluded, there is a battery that holds up to 11 hours of music playback.
Archer A320, not only looks good, but also reproduces sound with dignity. There is a bass, thanks to the presence of a subwoofer in the center and a bass port on the back side. But on some recordings, distortion may occur at high volume, due to not quite correct bass sport settings.
Another small minus is the lack of silicone gaskets on the bottom of the case. That is, the case is installed on the bottom of fabric and bamboo, which can cause not only rapid wear and dirt on the body, but also negatively affect the sound due to vibrations.