2017 was not boring among portable audio and as you can see from our review of the top best wireless speakers, most manufacturers tried to compete as best they could. And this year's top rating, includes many models from Chinese companies that are not inferior in quality, design or sound and filling of options to European or American manufacturers, but on the contrary, actively displace them.
Devialet Phantom Reactor 600&900 speakers: best Hi-End
The French company Devialet introduced an active speaker system "Phantom" with a power of 600 and 900 watts. Despite such impressive figures, one of the main features of the system is its compactness. According to the creators, the new product is not only able to compete with large floor columns, but also win many of them.
Both models have a Texas Instruments PCM1798 DAC (24bit/192kHz), followed by a hybrid ADH (Analog Digital Hybrid) amplifier, which Devialet puts in its network receivers. Where the input signal voltage is amplified in class A, and the current in class D, in other words, the voltage amplifier is controlled by a PWM amplifier, and each of them has a phase shift of 90°). The company writes that ADH technology allowed the speaker to sound loud (be effective, since it is class D), but clean, because the quality of amplification is close to A-class.
Another interesting innovation in this system is designed to provide the column with a powerful bass "Heart Bass Implosion". Dome bass drivers are located on the sides opposite each other, and they are long-stroke, and in the boxes where the speakers are installed, a vacuum is created.
The design of the "Phantom" can be called futuristic. The shape of the case resembles a barrel and a sphere at the same time, as the material for manufacturing the case was used fiberglass, polycarbonate and ABS plastic.
It is worth noting that for "Phantom" to work in the network, you must additionally purchase the "Dialog" hub. You can connect up to 24 "phantoms" to it at the same time if you want to create a multiroom. To manage the system, there is a special app for iOS and Android devices.
The price for the 600-watt "Phantom" is $1000 and $1300 for the 900-watt version.
Kenwood AS-BT77-S speaker: best quality assembly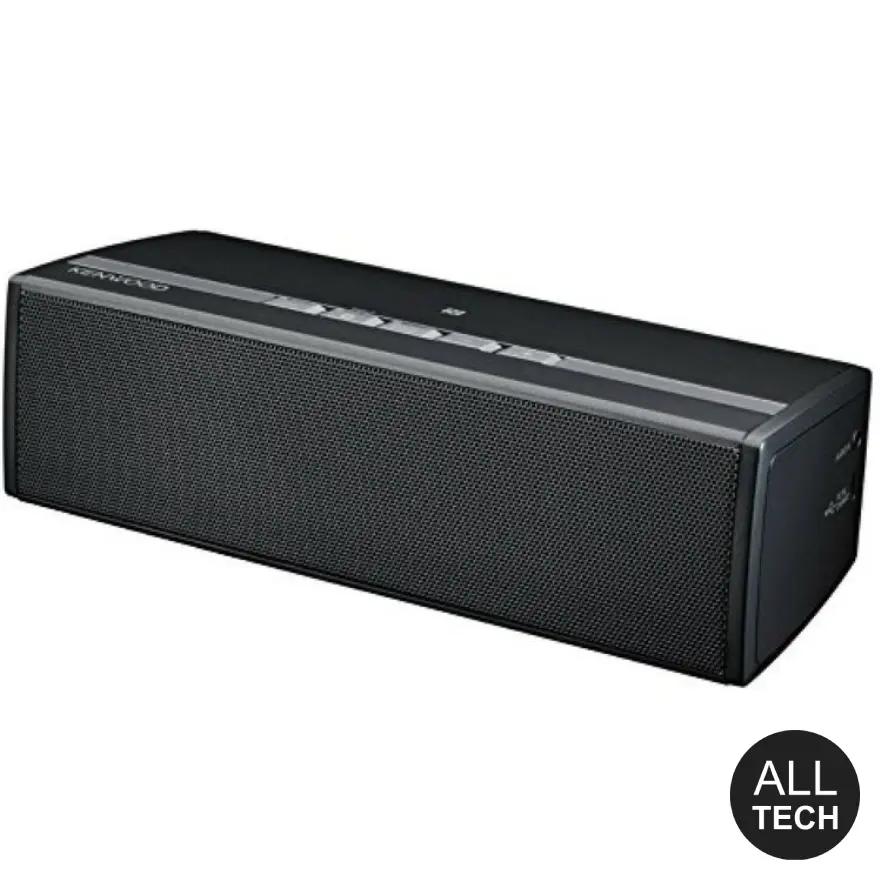 Unexpectedly for many, the company Kenwood surprised with its product, which can be called a masterpiece among competitors for its $100.
"AS-BT 77-C", this is not a plastic box, but a very heavy metal speaker in a democratic style with a very high-quality Assembly.
Despite its small size, this baby reproduces sound in a very adult way, leaving many competitors far behind. You will clearly be surprised not only by the sound quality, but also the level of bass that this baby can create, if of course you can keep him!
The "AS-BT 77-C" has standard connectors for connecting both micro USB for battery charging and audio in (stereo mini).
But there are two drawbacks. The battery does not hold a charge for long, only up to 4 hours of music playback. And the presence of not the latest version of Bluetooth, namely Bluetooth 2.1, which does not allow you to move away from the column more than 20fit.
By the way, there is also a Chinese copy of AS-BT77-S on the market, this is the Dostyle SD806.
DOSS SoundBox XL speaker: best for bass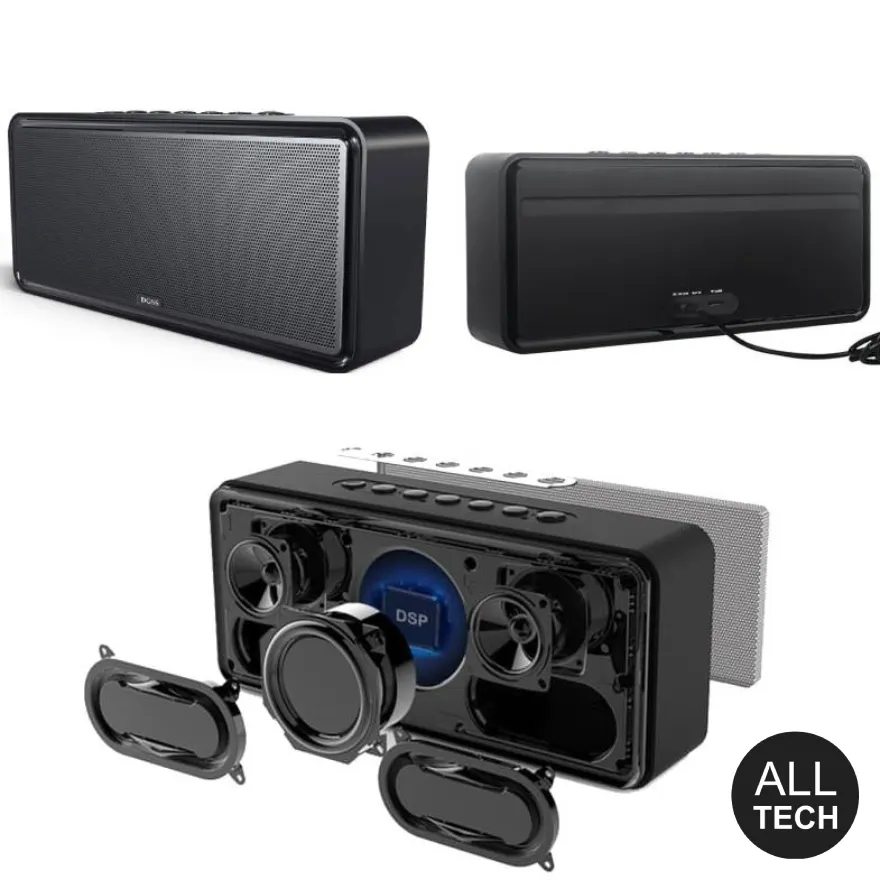 The next candidate simply amazes with its powerful bass at small dimensions!
Engineers of this product were able to fit in a compact case two mid-bass drivers and one subwoofer that swings two more passive bass radiators. All this bass filling is on the front side, that is, the bass wave hammers, not in different directions like most competitors, but only forward, which many fans of deep bass will definitely like!
This little sound monster is so powerful that at more than half the volume it starts jumping on the surface. Do not think that the abundance of bass somehow negatively affected the sound quality, no, and this little monster sounds very good not only for their money, but also will give a head start to some more expensive competitors.
What is unusual, the design of this bass monster, sustained aristocratic and more suitable for the home or office. Moreover, it does not provide protection from dust and moisture. But, the device is equipped with a battery that holds up to 10 hours of operation at half volume of sound, therefore, the mobile mode is not excluded.
This bass monster is available at a price to everyone, only about $70.
Aukey Eclipse speaker: best universal for home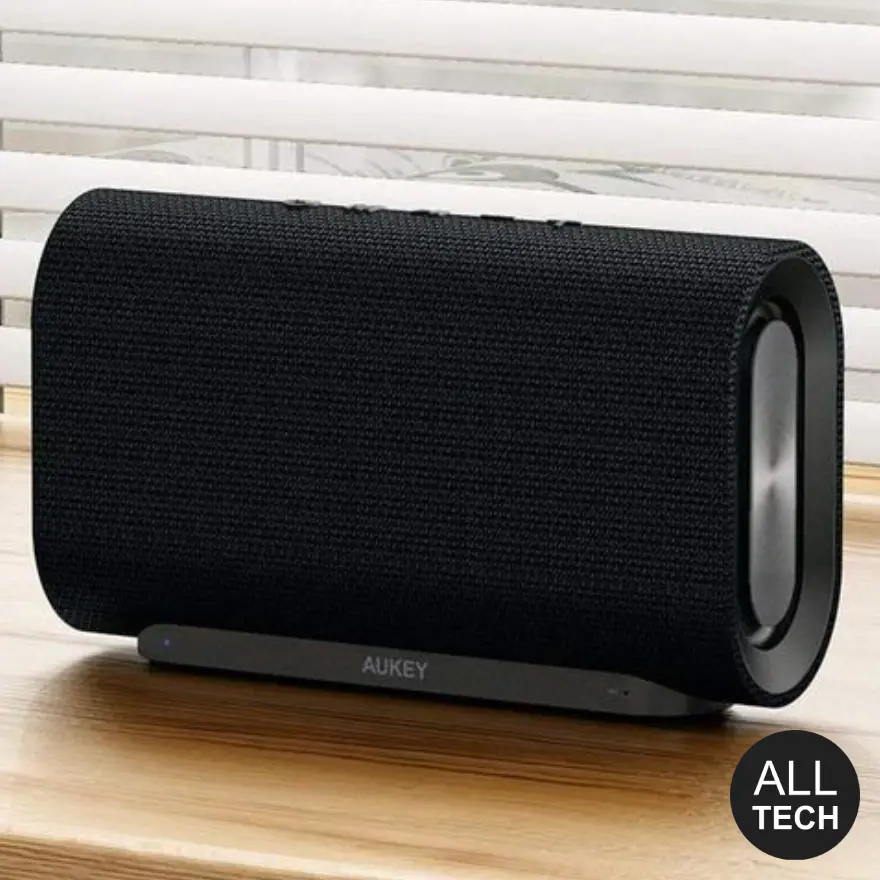 "Eclipse" from Aukey, a compact, stylish, well-sounding, mobile and inexpensive speaker ($70). Thanks to all these qualities, the "Eclipse" quickly became a popular wireless speaker among most buyers.
The "Eclipse" has only two 50mm wideband drivers with 10 watts each and two passive low-frequency bass radiators. But at the same time, these compact drivers are able to voice even a room above the average size. At high volume, the sound is not distorted, only the bass radiators do not withstand the load and occasionally begin to wheeze.
The presence of a battery that can withstand up to 10 hours of operation makes the "Eclipse" relevant for mobility. A Bluetooth 4.2, allows you to easily unhindered sound from room to room.
Moreover, the design is designed more for use in the home and will easily fit into any interior.
Riva Arena and Festival speakers: best Multi-room
Both models are managed using Android and iOS apps and can be integrated into the Google Home ecosystem. To connect, you can use several options: WI-FI, Bluetooth, AirPlay, DLNA, as well as Chromecast and Spotify Connect. You can combine up to 30 columns in a single network without lagging. Multi-room functionality allows you to create listening areas (kitchen, bedroom, office), organize streaming of different or identical music from all devices at once, or listen to two speakers in stereo mode.
The patented Trillium technology is responsible for the sound, which, according to the developers, allows you to achieve an extremely powerful sound in a compact case by "using three discrete channels to form a stereo sound that is much larger than the actual size of the speakers". Both models are capable of reproducing a signal as high as 24 bit/192 kHz.
The Arena model is a compact wireless speaker system equipped with three specially designed full-range ADX speakers with three passive emitters. In addition, you can connect a battery pack to it, thanks to which the system will live up to 20 hours away from the outlet.
The Festival model is larger and contains 6 specially designed bass and treble speakers paired with 4 passive emitters. This setup, as described in the description, allows the device to reproduce frequencies from 38Hz.
VIZIO Crave Go speaker: best for home or to go
"Crave Go" is a surprisingly great option for home and for walking for just $100-200. And it's not just the compact and premium design that will look good regardless of the situation but also the large amount of built-in options in this compact case with a built-in stand.
"Crave Go" is a multi-room speaker with Wi-Fi support, which allows you to connect several "Crave Go" and use Chromecast to transmit audio from streaming services such as Google Play Music, Pandora etc from other devices (such as a smartphone).
"Crave Go", has a chic sound for its size, which is surprising. The bass is played from 75Hz, and the maximum power of the sound pressure is up to 88dB. The DTS system reproduces ambient sound without distortion at high volume.
The built-in battery holds a charge of up to 6 hours of operation of the device, which makes it not the most powerful among competitors, but still quite acceptable.
MEIZU Life me-BTS 30 speaker: best life style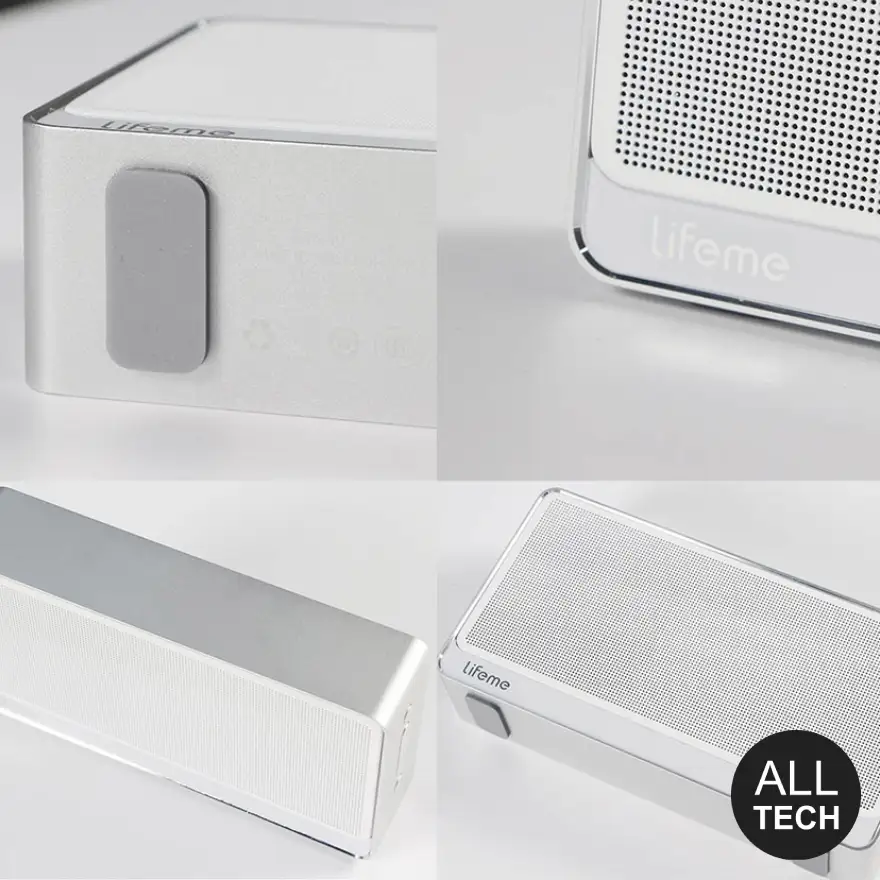 "Life me-BTS 30" can easily compete with "Crave Go" or "AS-BT77-S". "Life me", is also made in a solidly strict design, the body is made of aluminum, it does not have a multi-room option, but the cost is twice as low ($60).
On the right side there are buttons for controlling the speaker and on the back of the battery indicator, micro USB port for charging, AUX 3.5 mm connection port. Rubber feet are provided for stability. The "Life me-BTS 30" is paired with mobile devices at a distance of up to 10 meters via Bluetooth 4.0, and it is also possible to receive calls.
For high-quality and surround stereo sound, two drivers with a power of 5 W and two passive bass radiators are responsible. The maximum sound pressure reaches 83 db. this is not much, but it is quite acceptable for this money, as well as the frequency range of playback in 100Hz-20KHz. The amplifier is built on the TPA3130 module.
The battery capacity is above average, 2200 mAh supports up to 7 hours of operation.
ART RM5 speakers: best stereo pair
The stereo pair RM5, positioned as 2-band near-field Studio monitors with an original housing design. Very compact (only 9 cm deep) monitor cabinets are made of cast aluminum, and the place of the side faces is occupied by passive radiators with a flat diffuser. This technical solution allowed to extend the lower limit of the frequency range to 45 Hz.
The RM5 uses 5-inch woofer/midrange emitters with a composite diffuser and tweeters with a ring emitter (High Resolution Ring Radiator), which are loaded on a waveguide, allowing you to significantly expand the "sweet spot" zone.
The active column contains an amplifier that provides 300 W of total output power and a DSP processor with three presets: Reference, Hi-Fi and Theatre. You can use them to adapt the RM5 sound to different usage scenarios.
To connect to the audio source on the bottom panel of the active monitor, there is a pair of balanced XLR-1/4" combo inputs and one unbalanced stereo AUX input on the mini jack connector. There is also a built-in Bluetooth interface that allows you to stream audio wirelessly from various mobile devices.